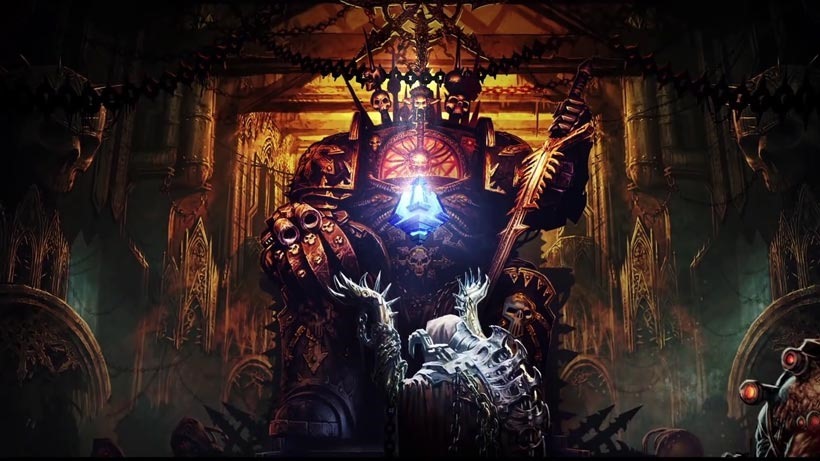 When your video game happens to be based on cosmic pissing contests between mobile church battleships and titanic fleets that give a new meaning to spreading the gospel. Battlefleet: Gothic Armada may not be everyone's cup of tea, but it's a game that has decades worth of Warhammer 40 000 lore to draw from and build on as you watch your troops die in the name of the glorious Emperor of mankind.
I'm not usually a big fan of the subtly-animated narrative, but it's a technique which can probably work for Battlefleet: Gothic Armada. Check out some of the gorgeous art in the trailer below:
If you've never explored the lore of Warhammer 40 000, go hit the wiki right now. It's the kind of history and legend that could put Star Wars to shame. So many great stories and events, such as the War in Heaven that saw the Necrontyr rebel against the Old Ones. The rise of the Necrons from that conflict, the Falll of the Eldar and the Horus Heresy that plunged the Imperium into a downward spiral of technological decline.
There's the Rebellion of the Men of Iron, the great Crusade that the Emperor undertook to find his primarchs and the dread terror of the Warp itself, where the lords of Chaos reside. Great, great stuff to discover.
Beyond my lyrical waxing, Tindalos Interactive has also shared new pre-order details for Battlefleet: Gothic Armada. Those fans who pony up for access from day one will gaina ccess to an upcoming beta, which will be out "a few weeks before official launch" in March. Pre-ordering also earns you the Space Marine faction for multiplayer and AI skirmishes, who'll be available as a free download as well for two months after launch.
After that, you'll need to pay a few dollars more to wield the might of the Emperor's chosen army.
Last Updated: January 28, 2016