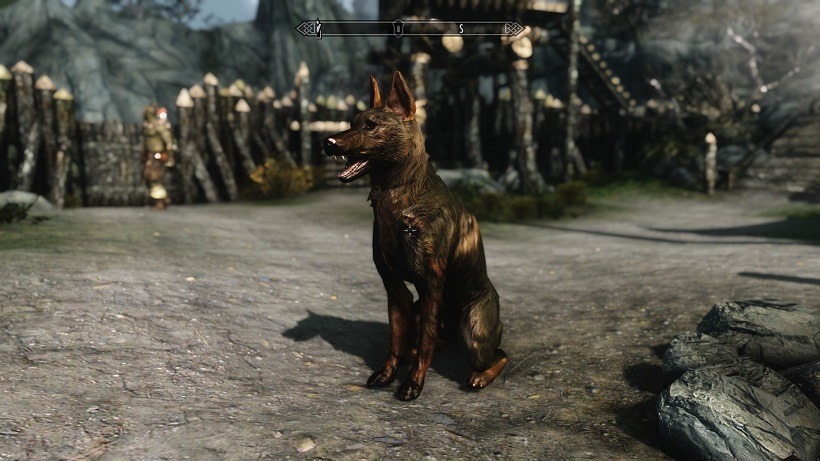 I've never been a fan of Skyrim or the sort of micro stories it tries so desperately to tell, but I'd be a fool not to concede that the Elder Scrolls epic allows for some amazing player-created adventures. Most of them involve hilarious glitches causing some unexpected effects during intense battles, but it's the more heartfelt stories that really get to me. Like this one about a man trying what probably should be something incredible simple: Adopting a dog.
Now I have no idea why Skyrim handles it in this way, but here's the too long, won't read version of the process. As a player, you can't adopt a dog. Not directly. The dog, however, can die at any moment, making protection of him incredible difficult. The dog can however be adopted by a child, who can be adopted by the player under a specific set of rules (apparently orphaned children are super picky). The child then randomly chooses a pet to adopt, so even then it's a bit of a roulette for the poor little mutt you're desperately trying to keep alive.
No one has documented this process better than Twitter user Patrick Lenton, who posted his almost frivolous attempt at adopting a dog while Tamriel burned to the ground. It's an incredibly hilarious read from start to finish, which you should definitely give five minutes to.
If you don't have the time, Patrick summarises it in a short Emoji tweet too. It's loses all the nuances, but you get the idea of how insane the entire thread is.
? the end! #skyrimstory
— Patrick Lenton (@PatrickLenton) 5 April 2016
This is frankly the best story I've seen come out of Skyrim, if only for the sheer frustration Patrick experienced trying to do something that probably should've been a much simpler feature. Perhaps Bethesda will listen for the next Elder Scrolls. Let us adopt those poor dogs!
Last Updated: April 6, 2016