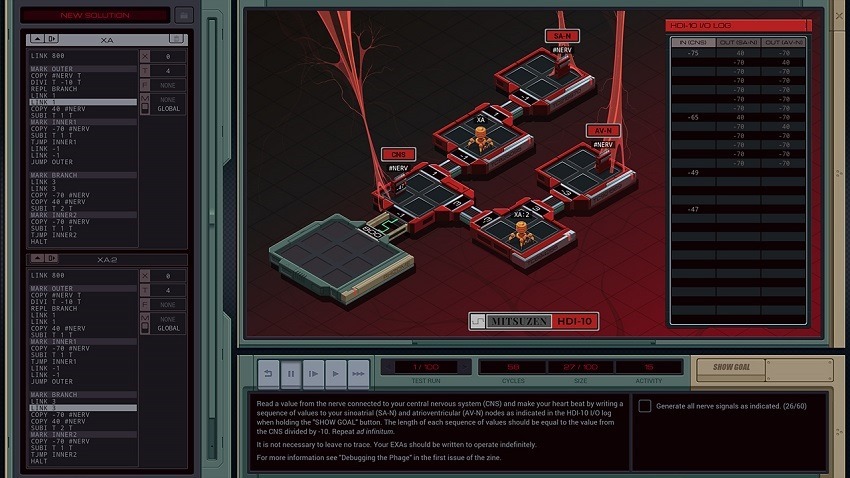 If you've recently heard the name Zachtronics floating about, it's probably because someone you know has tried to get you addicted Opus Magnum. The studio has become obsessed with developing hard to grasp mechanics with incredibly satisfying results, with the efficiency-focused Opus Magnum just delivering this on all fronts. And despite it launching last year, Zachtronics is already back with a new game. This time it's less about molecules and more about syntax, as EXAPunks tasks you with writing deep, complex computer virus.
Set in 1997, EXAPunks puts you in the shoes of a retired hacker, forced back into the game thanks to a deadly phage that you'll need a dose to cure. Seems these doses are rare and expensive, forcing you to dive back into the dense world of virus-creating. With two essential "zines" at your disposal (large text manuals you'll need to comb through in order to learn the skills you'll need"), you'll soon be writing intrusive software to infiltrate banks, schools, games studios, governments and even your own body. Essentially anything that can be hacked will be hacked, including your own bloodstream.
EXAPunks isn't aiming to be an incredibly accessible game, and is asking a lot of its players from the get-go with its extensive supplementary documentation just to get started. You're essentially learning its own programming language as a means to learn its mechanics, but it does open up interesting doors. One instance allows players to program their own games within EXAPunks, granted you have the chops to hack the emulator's SDK. Players will also be able to program their own puzzles (hacking security measures) and share them on Steam Workshop. If the player-base is strong enough, EXAPunks is promising virtually limitless content through this avenue.
EXAPunks launches on Steam Early Access on August 2nd, and will offer all of its supplementary reading as downloadable PDFs. Real enthusiasts can spring for professionally printed versions for a little more cash, which should start shipping before the launch in order to not delay your hacking escapades.
Last Updated: July 19, 2018