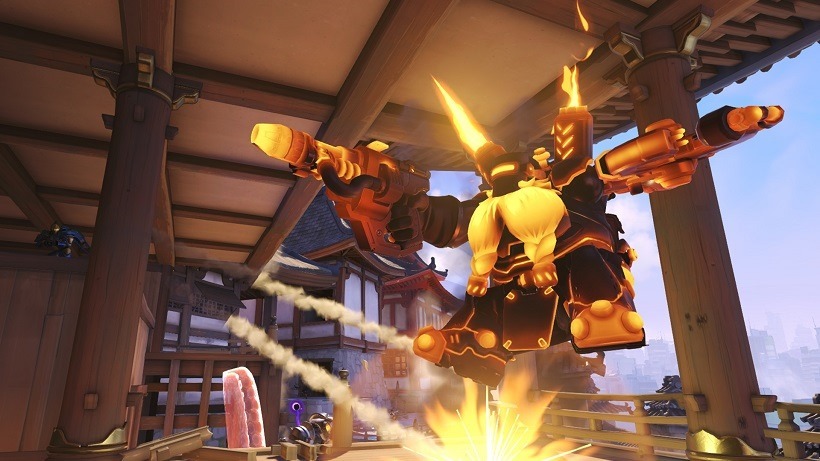 Overwatch has been out in beta on PC for what is starting to feel like an eternity now, and I've enjoyed every second I've had with the game thus far. It's still got a host of balancing issues to sort out in the few weeks it has left before launch (and likely the many weeks after the fact), but for now it's a tight, colourful multiplayer shooter that has me hooked. For those not on PC it's been a little less certain, with Blizzard not really talking about the Xbox One and PS4 versions lately.
That changed with a short media hands-on session that several international outlets got to attend. Both the PS4 and Xbox One versions were on show, and Eurogamer was on hand to provide a quick, non-Digital Foundry analysis of the two. While skirting over the nitty gritty details of texture resolution, anti-aliasing and the like, Overwatch certainly looks the part on console. It runs at a locked 60FPS, but that comes with a few concessions.
Speaking to Game Director Jeff Kaplan, Eurogamer discovered that both versions of Overwatch on console feature a dynamically scaling resolution to keep things smooth, which kicks in during effects heavy scenes.
Other than that, it's mostly the same game that is on PC. Eurogamer notes some balancing tweaks made to Bastion and Torbjorn (the two turret heavy characters in the game) to compensate for the overall slower speed of things. Characters turn and react a little slower when using a controller, so it's no surprise Blizzard is going through the existing mechanics with a fine comb to compensate. It's also the reason why Overwatch cross-play between console and PC is still not on the table, and will likely never be.
But all still looks well on track for launch in May, when Overwatch goes on sale for full price to join a varied landscape of multiplayer-only shooters. We'll see if it has the legs to survive in this space soon.
Last Updated: March 30, 2016