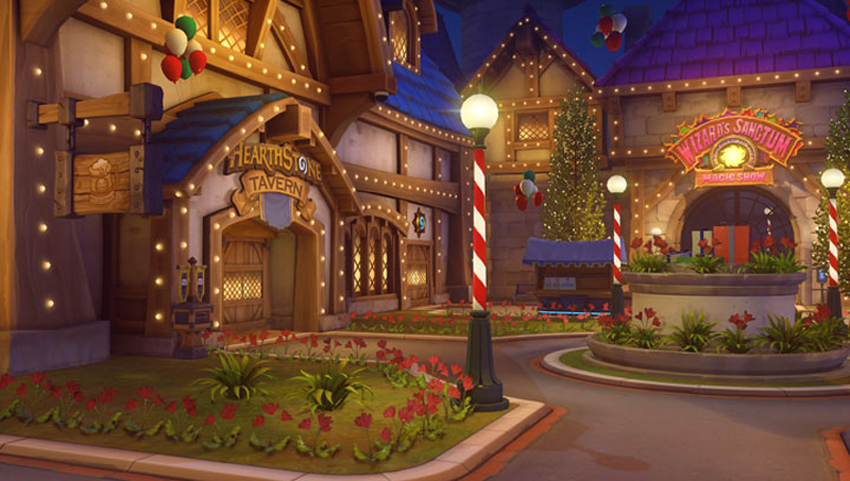 It's that time of year again when Overwatch gets taken over by a healthy dose of yuletide cheer. Yes, the annual Winter Wonderland seasonal update rolled out on Tuesday evening bringing with it the return of custom game modes Mei's Snowball Offensive and Yeti Hunter, brand new seasonal skins and animations for heroes, and some snowy Christmas-inspired facelifts to some existing maps. Unfortunately that last part hasn't turned out so well as some gamers have found their experience in one location to be a proverbial lump of coal in their Christmas stocking.
The offending map in this case is Blizzard World, the theme-park map that pays homage to developer Blizzard's most beloved franchises. Except, several players who hopped into the map after the Winter Wonderland update found nothing to love as they got stuck inside their spawn room with the doors failing to open at the round start. The enemy team was allowed to run all over the place, but the captives were stuck in place until they eventually got booted for inactivity. Posts such as the one below from Reddit soon started popping up as more people started experiencing this game breaking bug.
I have never seen Overwatch fuck up this badly. from r/Overwatch
Along with getting stuck in spawn, the wintry aesthetic changes have appeared to also broken other aspects, like the payload failing to emerge after Point A is captured, or the game going into infinite overtime. Blizzard responded last night by first pulling Blizzard World entirely out of the map cycle, and then even going so far as to disable game modes like No Limits and Mystery Heroes that feature the map until they can figure out what went wrong.
[#Overwatch] The Blizzard World map has been temporarily disabled while we address a few bugs. We're actively working on solutions, and hope to have it back soon!

— BlizzardCS (@BlizzardCS) December 12, 2018
Unfortunately, that list is longer than anticipated as other bugs outside of Blizzard World also started popping up. Mei's Snowball Offensive is now allowing more than one player to replenish their ammo from the same pile of snow simultaneously, the Yeti in Yeti Hunt is randomly getting enraged, players are spawning in out of bounds on Junkertown, players models randomly disappear/reappear during their end of round victory poses, and even high-end PC's are experiencing random performance issues.
There are several other minor bugs also being reported, all of which seems to stem from this Winter Wonderland update and appears to be across all platforms. Looks like Blizzard has really scrooged this one up.
Last Updated: December 13, 2018