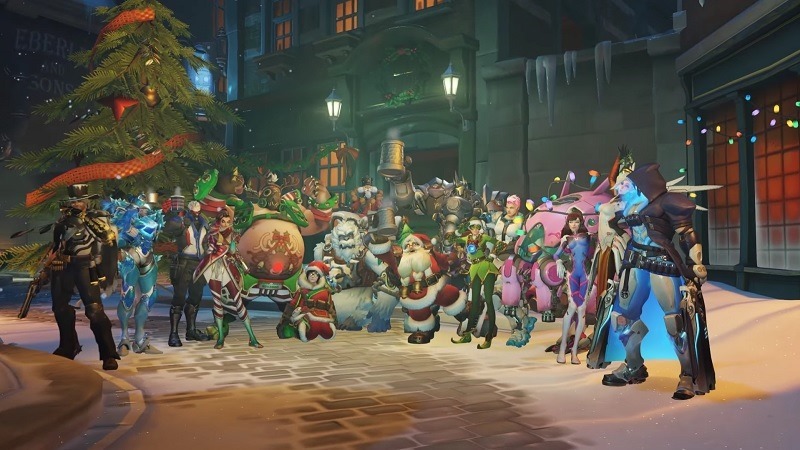 They don't call themselves Blizzard for nothing you know. With the holiday season just around the corner, they're covering everything in snow.
Overwatch of course, is no exception. We've known for quite a while now that some celebration or other was coming to the shooter. What it was exactly remained a mystery… UNTIL NOW!
It's the most wonderful time of the year, and we hope you'll join us for some holiday cheer! That's right—Overwatch is getting into the holiday spirit with a brand-new seasonal event.

We've decked the halls of Hanamura and King's Row, stuffed our Loot Boxes full of festive goodies, and arranged an extra-special snowball fight for you and your friends. So, grab a mug of hot cocoa, put on your favorite ugly sweater, and get ready to jingle all the way to Overwatch's Winter Wonderland!
The Winter Wonderland is live, and it's obviously packed to the brim with new skins, sprays, emotes, and all of that other fluff. That's not all though – there's a brand new festive brawl too, featuring the one and only bae, Mei.
During this year's Winter Wonderland event, you'll also be able to queue up for a brand new brawl: Mei's Snowball Offensive! Mei's Snowball Offensive is a 6v6, single-elimination shindig featuring everyone's favorite climatologist—and she's got a few new tricks up her fur-lined sleeve.

In this brawl, Mei's Endothermic Blaster no longer unleashes a stream of frost or shoots icicles. Instead, it's been modified to fire a single, super-powered snowball. Taking down an enemy only takes one hit, but a miss can be costly. Once your weapon is empty, your enemies will have the advantage as you search for the nearest snow pile to reload, so don't forget to cover your retreat with ice walls and cryo-freeze to block their attacks—and when the battle starts to heat up, you can activate Mei's Ultimate, which turns her blaster into a semi-automatic snowball launcher, allowing you to fire continuously as your enemies scatter.
Lastly, aside from all the new visual content, the holiday patch also contains a host of changes that have been in the PTR for a while now. Have you been dying to get your hands on the new Symmetra? Merry Christmas, her new kit is finally available!
Now if you'll excuse me, I'm off to grind up some experience and currency. There are a plethora of cosmetics that I simply must have! You can check them all out in the video below.
Last Updated: December 14, 2016