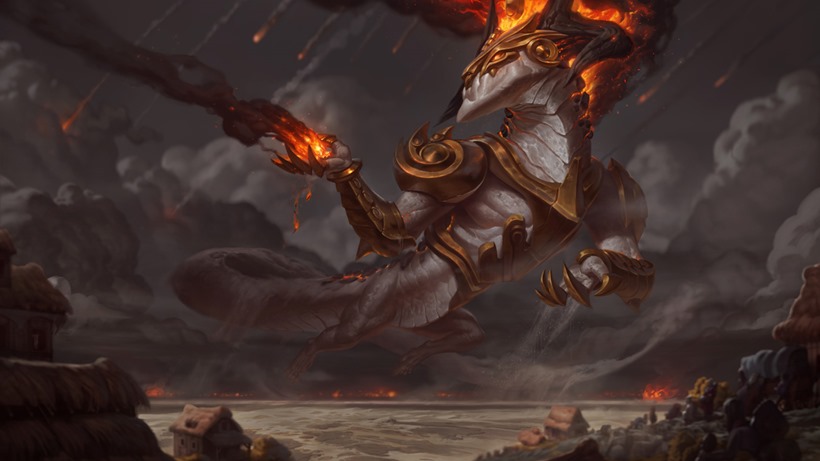 A little while ago, Riot Games unveiled Aurelion Sol – the first ever dragon champion for League of Legends. He's now finally available in Summoner's Rift thanks to patch 6.6.
If you've forgotten what the almighty dragon is capable of, you can take a look at his abilities right here. Aurelion Sol has in interesting looking kit, so I'm sure League fans are happy to see him finally available in the main game client. Hell, if I still played the MOBA, I'd be saving up as much IP as possible so I could add him to my library of owned champions ASAP.
Aurelion Sol isn't all that's new with Patch 6.6. No, in typical Riot fashion, they've gone and changed up a bunch of other stuff too. Here's an overview:
While 6.6's got a lot going on, let's highlight the ones getting the most love: a group we'll refer to as specialists. These champions are the strategic role-players – the niche pick flavor packets that bring a whole lot of intention to the team composition noodle bowl(or maybe they're the ones creating a strategy stew all their own). What we're trying to say (aside from being hungry), is that these specialists have very high strengths that often define a team's strategic identity.

In exchange, however, they typically have stark weaknesses that can be capitalized upon. This is where the generalists we were talking about last patch come in: with their subtler weaknesses (and strengths), generalists usually serve to enhance the flavor of the specialist without also introducing additional tastes.

Food talk aside, we've got the usual buffs and nerfs, but we've also shifted more of our focus to the pro scene, as we begin taking a deeper look at what's causing such slow starts. As such, you won't see any changes to death timers or early towers/dragons (yet), but we're not turning a blind eye to the woes of the pros just yet. Consider this patch us dipping our toes into the pool before diving in head-first.
For some reason, my usual go to YouTube personality for League of Legends patch notes did not make a video for 6.6. I've found another however. Redmercy's videos are slightly longer, but just as useful if you're not keen to browse through the lengthy patch notes manually. Here's his take on patch 6.6.
Riot never ceases to amaze me, seriously. They release a patch every two to three weeks, and each time, there are some pretty big changes, not just little tweaks. Patch 6.6 is no different. It has a brand new (and awesome looking) champion, along with several improvements to specialists, and changes to other characters and items.
Are you happy with all the changes? Will you be spending IP (or real cash) on Aurelion Sol?
Last Updated: March 23, 2016