The voice of eSports himself, Paul "ReDeYe" Challoner, will be returning to South Africa to host the Telkom Digital Gaming Masters next month. Challoner's first introduction to South African eSports came in February when he announced the Telkom Digital Masters at their main event. There Telkom showcased the eight MGOs who would be participating, and the big R1 million prize pool tied to the competition. The two titles featuring at the DGL Masters are Dota 2 and Counter-Strike: Global Offensive, two of the world's biggest eSports which Paul "ReDeYe" Challoner has played a major part in.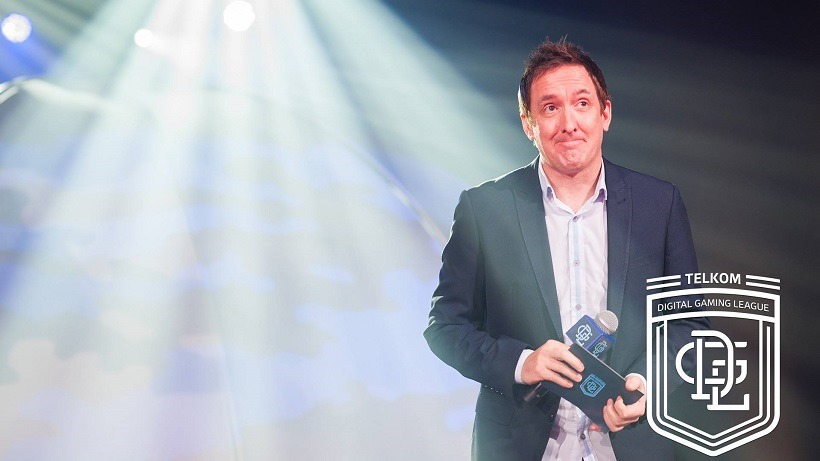 Paul Chaloner at the DGL Masters Launch event in February.
Last month ESPN called Challoner the Voice of eSports, which is testament to the hype surrounding his return to South Africa. What's also great news is this year the Telkom DGL Masters will feature in the main expo area, instead of being hidden away in the basement. Their CS:GO tournament earlier this year at Cape Town rAge drew in a large crowd as many expo goers got their first taste of competitive eSports. rAge is the largest expo in South Africa, and it's no doubt that the showcase in October, coupled with a professional host, should not be missed.
Challoner has recently returned from hosting the Dota 2 International 2016, one of the most successful Dota 2 International tournaments to date. The Telkom Digial Gaming League has yet to announce the talent who will be joining Challoner for the Masters tournament, but a hard working team has been covering the ins and outs of every match throughout the competitive year. In the mean time, teams are preparing for the final event which takes place on the 7th to 9th of October at the rAge expo in South Africa.
Like esports?
Check out esports central
Last Updated: September 7, 2016