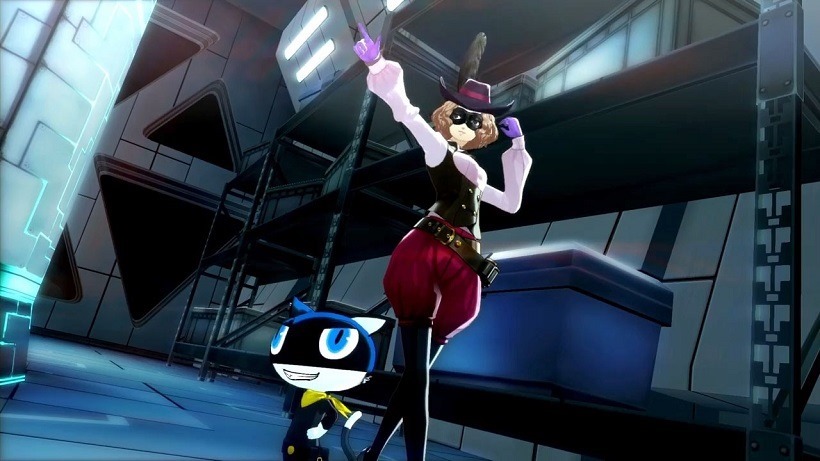 If you're not entirely sure why everyone loses their collective marbles over Persona 5, don't worry. I too am part of the uninitiated, and I'm currently playing through Persona 4 Golden just to see what all the fuss is about. Not because I have to, but because every trailer for Persona 5 has intrigued me in some way. And for a game so heavily seeped in Japanese design culture, that's a little surprising to me.
Persona 5 looks as weird and interesting as it does gorgeous, and it's part of the reasons why the game has grabbed me whenever it has been shown off. The popular Atlus RPG is launching quite soon in fact, with a September release date penned for a game that has felt like it's been in development forever. That date is only good for fans in Japan though, and there's a bit of a wait for the rest of the western word to get their Persona fix.
That wait takes us into February 2017, with Persona 5 giving you a Valentines date if you already didn't have plans. The game will take nearly half a year to reach other regions, which may be a little disappointing for those hoping for an end of year surprise. The disappointment was somewhat offset with the reveal of a Collector's Edition that will accompany the standard version of the game, which is exclusive to PS4 (PS3 players will have to settle for the vanilla version).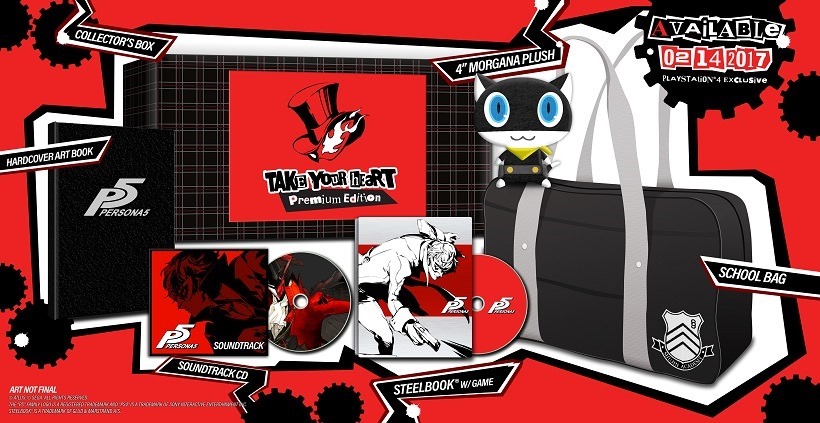 "Take Your Heart" Premium Edition – PlayStation 4 only
Exclusive to the PS4 version of the game, the premium edition includes the following:

Soundtrack CD: A selection of music from Persona 5 by legendary series composer Shoji Meguro in a CD wallet featuring P5 artwork.
4? Morgana plush: Morgana the cat is not just the mascot of the Phantom Thieves, but is also a member–and also not just a cat! The premium edition includes an exclusive 4? plush of Morgana.
64-page hardcover art book: This art book is full of concept sketches, character art, and more by character designer Shigenori Soejima.
SteelBook: As strong as a vault, the game disc for the PS4 will come specially packaged in a SteelBook collectible case, emblazoned with Persona 5 designs.
School bag: Designed after the traditional school bags in Japan, the exclusive replica bag comes complete with the Shujin Academy crest.
Collectible outer box: Easily the largest premium edition in ATLUS' history, the entirety of the "Take Your Heart" Premium Edition comes in a colossal collectible box.
Like I said, I have absolutely no idea what a lot of that is, but it just looks all so awesome. I'm hoping to enjoy Persona 4 as much as everyone has raved about it in the lead up to this sequel, but Persona looks like a Japanese franchise that I could really get lost in. It's a big deal to JRPG aficionados, so it's great to see a date that everyone can look forward to now.
Last Updated: June 8, 2016