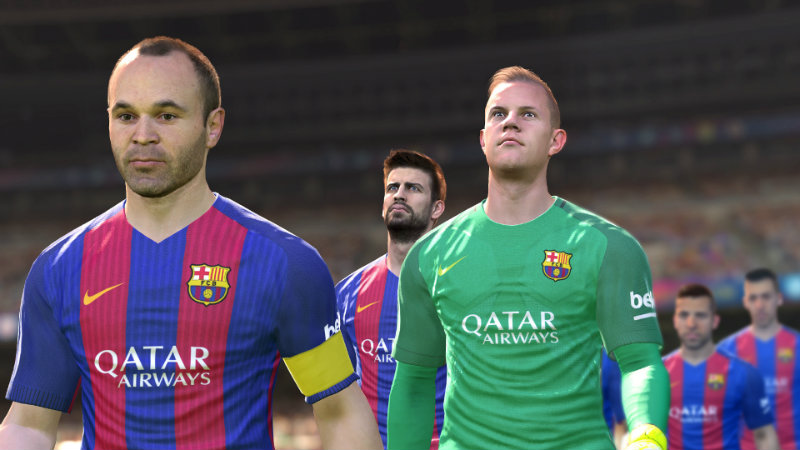 Pro Evolution Soccer 2017 is – limited licencing and likenesses aside – the pinnacle of digital football. It's the best PES (and probably the best football game) in years. Fans of the series playing on PS4 or Xbox One seem to be rather happy with it.
Here's what we said of it in our review, where we awarded it a rather high 90.
PES 2017 is a fantastic representation of the beautiful game. You could play this game for months on end and still find new ways to beat opponents while being amazed at what you just saw. Those who are brave enough to swim against the FIFA stream will be rewarded with arguably the best football video games to date.
Unfortunately, those playing on the PC have found it's a bit of a different game. Again. Last year, we told you that PES 16 on the PC wasn't up to the standard of the PS4 and Xbox One versions – instead sitting somewhere closer to the Xbox 360 and PS3 ones. Given that Konami's had a year to get the PC version's Fox Engine code base in line with the newer consoles versions, you'd be forgiven for expecting that the PC version would be on par this time.
You'd also be wrong. Konami's duffed up the PC version again, delivering a version of PES 2017 that's still not on the same level of the current consoles. Steam's pages are awash with angry PC gamers who feel they've been duped a second time.
"This game is deceiving, is bad looking, a joke. Konami has no respect for PC users and I made a mistake buying this. I'll never again spend money with konami game. I don't recommend!: says one user.
Says another angry user: "The AI, passing and tempo is good, but the fact that this is an XBOX 360 port is just horrible. The poor graphics makes the game a 2/10 regardless of it's other qualities. Such a shame. "
As a last example, here's another angry PC gamer:
"I really love the franchise but I can't let this through again, the graphics are the same since 2015, while it might not be a big issue since the gameplay is actually neat but they have done this about 3 or 4 times in a row, I can't recommend the game because of that, if they see we are still buying it they will keep doing the same, we want a pc version of the game not a port of the ps3 version."
It's probably a fair assumption that Konami makes most of its PES sales on consoles – but if they're not going to put in a modicum of effort on the PC version then they should just not release it.
Last Updated: September 19, 2016