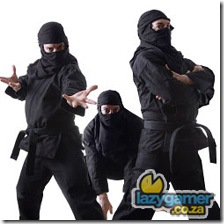 CydoniaX, community manager for Home has announced that from February 12th, Ninja outfits will be available to purchase from the Mall. Whilst no price has yet been announced it doesn't really matter. It's ninja suits!
To celebrate the arrival of Japan's notorious masters of espionage, they'll be holding a contest. "On February 13th, we'll be holding an event called I Love Ninjas," said CydoniaX
"The first instance of the brand-new community-named Home hang-out space, the Gamer's Lounge, to be completely filled with people in ninja costumes (or a reasonable facsimile using all-black clothing items in your inventory) that we see will win vouchers for SOCOM and Warhawk to celebrate the upcoming spaces." Ninja suits AND free stuff?
In related news, Xbox Live Avatars will be getting some new outfits to celebrate St Valentines Day – A fancy formal suit for the gents, and a red dress for the ladies. Whilst free, they're still not ninja suits.
As far as I'm concerned, the inclusion of Shinobi in Home settles the debate once and for all – PSN is vastly superior to Xbox Live. It has ninjas.
Source : PSN Blog
Last Updated: February 11, 2009