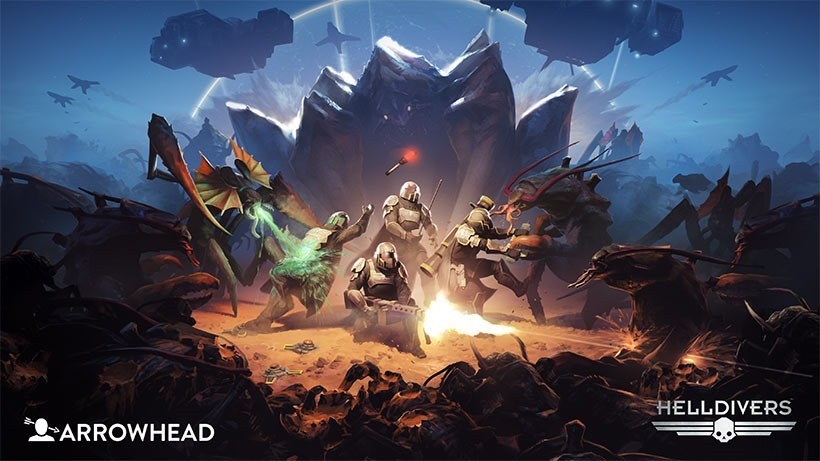 Helldivers is one of the best, most fun co-operative shooters I've had the absolute joy (and frustration, and agony as my team-mate shoots me in the face) of playing. It's an isometric, twin-stick shooter with an RPG bent that is pretty much the best Starship Troopers video game ever.
Featuring procedurally-generated levels and non-linear progression, the four player co-op shooter is one of the best things on the PlayStation 4. Here's what we said of the game in our 9/10 review:
"Helldivers is hopelessly addictive and brilliantly brutal. You will find yourself playing with a gleeful smile throughout, either thanks to crushing foes with your drop shipped turret or because of shooting your enemy with bullets full of freedom. Fast-paced and humorous with deep combat, this space romp should be required in every PS4 owner's library."
And now, it's coming to Steam, giving PC gamers their own cups of Liber-tea!
"We have done our very best to ensure that the game will feel as good as possible when played on PC," Arrowhead Game Studios CEO and Game Director Johan Pilestedt said. "With a wide range of graphic options, rebindable keys and an added text chat, we hope that we will meet the expectations which players have of a PC title."
The PC release of the game will include all of the game's DLC to date; Masters of the Galaxy, Turning up the Heat, and Democracy Strikes Back expansions. No word on pricing just yet, or if it'll support cross-platform multiplayer (which would be amazing).
Interestingly, the game is being published by Sony's PlayStation Mobile publishing arm – which is meant for bringing PlayStation games to Android and the poor, discarded Vita. The very first Sony-published game on Steam is coming to the platform next month. It's great.
Last Updated: November 9, 2015