Remember, keep your elbows locked at your sides, your center of gravity low and if you need to throw a hit then use your hips to add extra force to the attack. While it sounds like I'm describing a self-defense class, I am in fact actually prepping you for the inevitable Black Friday sale that is preparing itself for the mother of all consumer brouhahas.
While you won't see any chaos on the same level as the madness shown at North American Black Friday sales that our local retailers have copied with staggering 5% off discounts, you can expect to still see some hefty savings on the video game front. Sony is jumping on that ship from November 17 until November 24, with some solid savings on their consoles.
PlayStation VR bundles will cost you R1000 less and will also pack in a free GT Sport or The Elder Scrolls V: Skyrim VR game from November 17 until November 26, while you can grab a PS Hits Console bundle for R3999. The 1TB GT Sport Limited edition as well as the Call of Duty World War II Limited edition bundles will set you back R4999 from November 24-26.
As for games? Well here ya go then: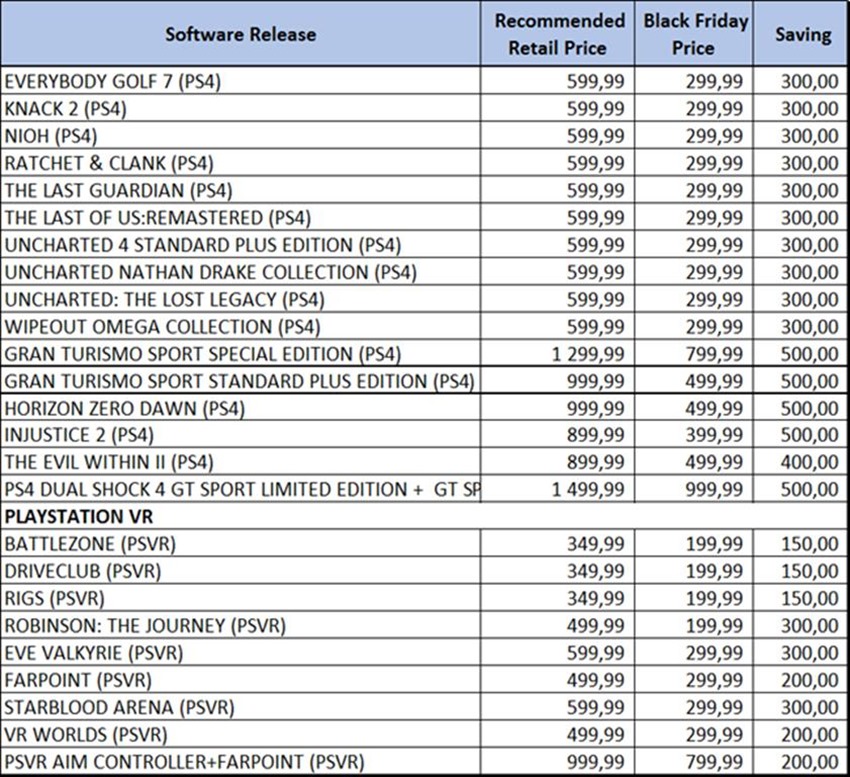 Solid stuff, should you find yourself tempted. You can find all of the above offers at the usual suspects such as BT Games, C.N.A, Dion Wired, Game, Game4U, Hi Fi Corporation, Incredible Connection, Loot,  Makro,  Pick 'n Pay, Raru, Toys R Us, Takealot. Some offers may of course, vary from store to store.
Last Updated: November 14, 2017