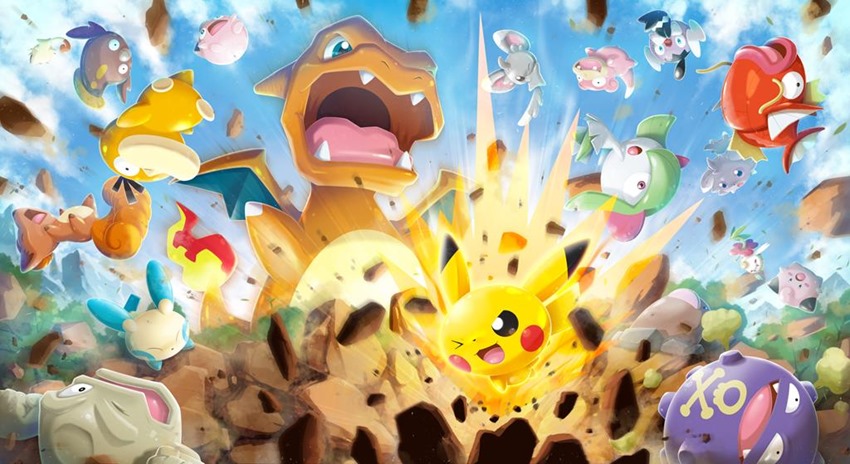 A couple of years ago on the Nintendo 3DS, the Pokémon franchise arrived with a new spin-off. Called Pokémon Rumble, the idea was to make pocket monster battling more dynamic and give it a toyetic spin at the same time. The end result was cute: Toy Pokémon, battling one another using a system of dynamic attacks that played to elemental type strength and weaknesses.
A few years later, and Nintendo is reviving that idea once again, only this time for mobile devices with Pokémon Rumble Rush. It's currently available on Android phones if you happen to be in Australia (YouTube downvotes are just upvotes from Australia, just so you know), and it'll have you flying around various islands and building up a gang of pocket monsters along the way. Simple!
The actual gameplay looks even more simple: Players can engage in some on-rails action, tapping on opposition Pokémon and using their chosen partner's special attack to clear the way towards a final boss. Defeat the mightier Pokémon, earn some coin and maybe even a few captured Pokémon to add to your collection along the way.
To get stronger, you're going to need to grind for Ore though, a precious stone that increases stats which in turn increases your overall Combat Power, sort of like how Pokémon Let's Go used various candies to initiate a similar system of permanent power-ups. And that in turn, makes for an addictive groove. Hop to an island, battle your way through, take on the boss and get rewarded. Rinse and repeat.
The catch here is that each big boss happens to require that your team is up to scratch so that they can survive attacks from the HP-sponge, which in turn emphasises the basic gameplay grind of Pokémon Rumble Rush. It's simple, kind of addictive and it looks as cute as can be. Which makes for a game that is the perfect antithesis to anyone who doesn't want to have to go outside and actually expose themselves to the elements if they want to catch Pokémon. Right, Pokémon GO? Right.
Last Updated: May 16, 2019