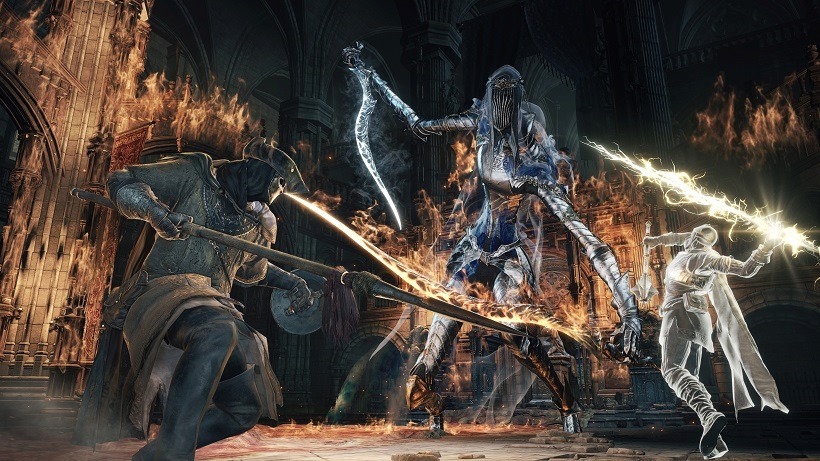 Having finished my first From Software game just a few months ago (suck it, Bloodborne), I must say that these weeks leading up to the release of Dark Souls III have me more excited for a series that has beaten me senseless in the past than ever. The game, which launched yesterday in Japan, is set to arrive everywhere else later next month, and it's becoming an excruciating wait for those still feeling bitter about the failings of Dark Souls II. I want to say this launch trailer will help with that, but I'd be lying.
Because of all the trailers and gameplay previews I've seen, nothing has convinced me more to give the series another bash than the trailer below. Accompanying the launch in the land of the rising sun, Dark Souls III's launch trailer has a tinge of finality too it (which isn't too surprising) but sandwiches that between some dark , intense action that would most certainly have spelled death for the player if the camera hadn't panned away every time.
Dark Souls III looks a lot faster than its predecessors, and director Hidetaka Miyazaki has stated numerous times that it was influenced a lot by the lesson learnt when creating Bloodborne. That was a more aggressive take on the Souls formula, and Dark Souls III could be thought of as a hybrid between the two. Lifting your shield and treading careful are still par for the course, but aggression is now rewarded in equal measure.
And if you're into soaking up every morsel of lore Dark Souls has to offer (because you're being silly if you think there isn't a fantastic story beneath this all) then there's a lot to look forward to as well. Dark Souls III is shaking up how it approaches the Accursed this time, and it again has a ring of closure to it. If the trailer is anything to go by, Form Software certainly are throwing their all at it.
Dark Souls III is out on April 12th for Xbox One, PS4 and PC.
Last Updated: March 23, 2016