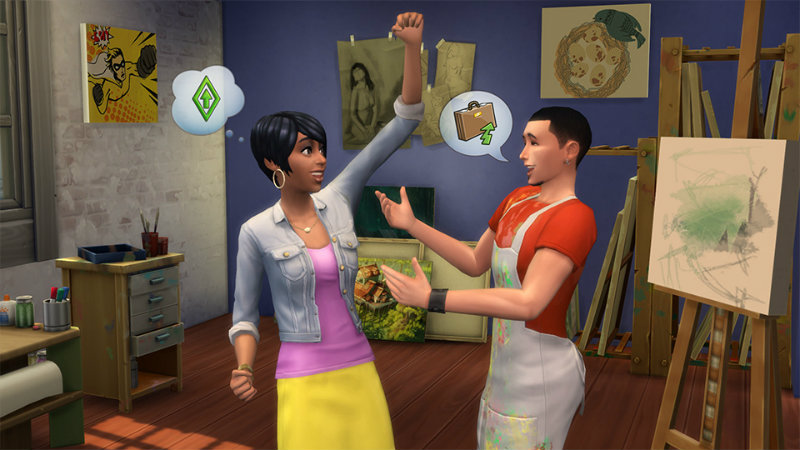 The Sims are meant to, um, simulate real life. Just like the rest of us, sad Sims are difficult to convince to exercise, and tired Sims might not be up for a big cooking or painting session. Real life people have options to help – they can brew some coffee or channel the Valley of the Dolls to change their mood or energy level. The Sims are going through their own Fear and Loathing in Las Vegas period – it's currently Triple Boost Week: Skills and Careers, and you can force your Sims into a frenzied, manic skill boost.
According to The Sims site, Triple Boost Week started on the 22nd of August, but will run until the 29th. That means you've got all weekend to level up your Sims in all ways possible. Here's the explanation that I'm copying and pasting for you because my real life triple boost week isn't in effect:
So, what does this mean? Simple: from August 22 at 10am PT until August 29 at 10am PT, your Sims can gain Skills at a whopping three times the usual rate, or gain a triple Job Performance Boost for base game Careers. All they'll need to do is head over to Jasmine Holiday (or call her on the phone) to get granted with seven in-game days of Skill or Career Boosts. You can do it as many times as you want during that period, giving your Sims plenty of time to reach the top of their Career, or Skill up enough to write the next great novel. You'll only be able to have one at a time, though – asking for a Skill Boost when you already have a Career boost will cancel the other one.
So, practicing your public speaking skills in the mirror, or painting in the basement like a good forced laborer, will garner you much more proficiency in a way shorter time. This really does feel like a weird scene out of Requiem for a Dream – you know, when life seems to happen in fast forward. Still, it's a cool feature for those playing the Sims 4 and hoping to level up their characters faster. Just remember, better career skills or that long sought after fitness ability doesn't buy happiness. Well, maybe it does in the Sims… I'm not too sure.
Last Updated: August 26, 2016