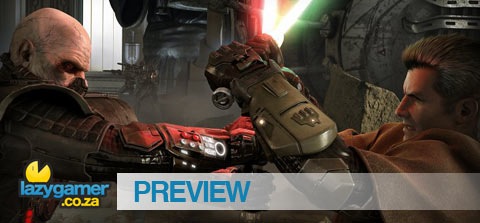 By Bryan Banfield
Star Wars fans rejoice! Our good friends at BioWare have done it again. Star Wars: The Old Republic is the first fully voiced Massive Multiplayer Online Role Playing Game (MMORPG). This means that every person, player and NPC you encounter in this amazing Star Wars universe will be able to interact with you in full high quality voice over.
Although this title is still referred to by Bioware as a "work in progress" what is coming out and is available to us is truly amazing and one that it destined to bring every Star Wars fan to this very slick and well put together title.
BioWare have outdone themselves in the area of role playing games they never seem to sit in one place for too long at all. Every title they have released has pushed game play and technology to the next level. This puts us in the position of asking: "Well where to from here?" Star Wars" The Old Republic is no different.
The first key to a great role playing game is the ability to have the choices and decisions matter and actually change the direction of the storyline and gameplay. This is the aspect alone that has kept BioWare out in front. In Star Wars: The Old Republic it is no different. All decision and choices in this game have been thought through and designed to pull you into the game and allow you to change the storyline.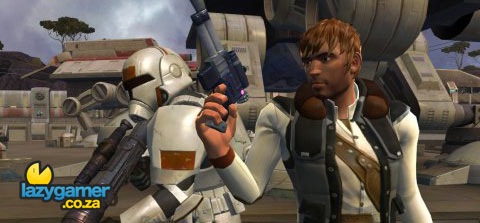 Classes in the Star Wars universe are at the forefront and we have been able to see three of them so far; the bounty hunter, Smuggler and Sith Warrior.
Each of these classes offers a different and diverse gameplay style which allows for hours of replayability. Smugglers have the first ever fully functioning cover system allowing you to be able to hide behind rocks and trees and to be able to interact with your environment.
Each class also allows for an additional special ability unique to its class. Smugglers (Your Hans Solo style class) have a barrage fire ability.
Bounty Hunters use a combination of range and melee attacks, while wielding stun darts, blasters, rockets and even a flamethrower.
But what would the Star Wars universe be without lightsabers, by far my personal favourite. Our Sith Warrior class Is more of a melee class and is able to cover lager areas fast in order to close the gaps in combat. Various force powers allow for some stunning aerial attacks. You are also able to reflect blaster shots in multiple directions you also have access to the force choke ability and some force chain lightning and even dual wield lightsabers.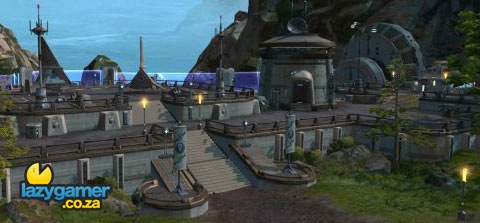 The combat system has been designed to offer the player a heroic Star Wars feel right from the get go which along with the traditional Star Wars soundtrack makes for some amazingly intense gameplay.
Along the storyline you will encounter flashpoints. These are the story driven interactions that build onto the overall storyline as you progress. These are also fully voiced over and allow for an amazing group interaction technology that allows all players to answer questions and make decisions. Questions are thrown to various players which allows for everyone to interact and change the direction of the gameplay. No longer is it just the team leader making all the decisions and we are just required to sit back and enjoy the cut scene. This also builds into the game the notion that I have to make choices that will affect my whole team either you can act as a team or totally make a way out choice that will have your team questioning your decision making abilities.
Star Wars fans get ready if you thought that Episode One was "The saga Begins" you will be pleasantly surprised to get your hands on this one.
May the force be with us all!
Last Updated: September 3, 2009