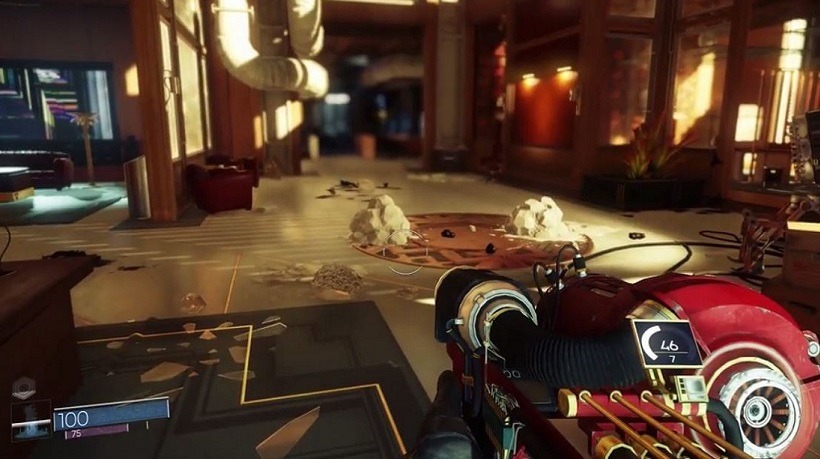 There's really nothing about Arkane Studios' Prey title that links itself to the original. And that's really ok. The once in development sequel also had little to do with the title that kicked things off, and instead of sloppily trying to tie the series together Bethesda is choosing to forge a new path. A path which looks like a mix of elements between BioShock, Dead Space and Dishonored. And it's as confusing and enticing as it sounds.
Some new gameplay straight from The Game Awards showed off again the very different ways you can approach combat on the abandoned space station that you find yourself trapped in. Goo-like monsters (that kind of look like that old XCOM shooter) roam the hallways, leaving you to be inventive with the engineering tools you have to take them down. A good gun (good is important here) allows you to freeze enemies in place or create pathways to sneak past them entirely. Some player powers afford you to opportunity to dismantle foes with fire and more, or simply possess a coffee cup to hide and get past security systems
It's linear, but Prey looks like it's going to give you a lot of gameplay breadth to play around with. Not too unlike another of Arkane's creations, Dishonored.
Quite frankly, I just want to play as a coffee cup all the time. As long as I don't encounter an evil barista along the way.
Prey is going to be getting a whole host of new details this months after being revealed as the Game Informer cover title. That's great too, considering Bethesda is sticking to it's earlier release window of Spring 2017. That's not far off at all, so expect to be seeing a lot more Prey gameplay in the coming weeks, as the first-half of 2017 gets off to a riveting start.
Last Updated: December 2, 2016