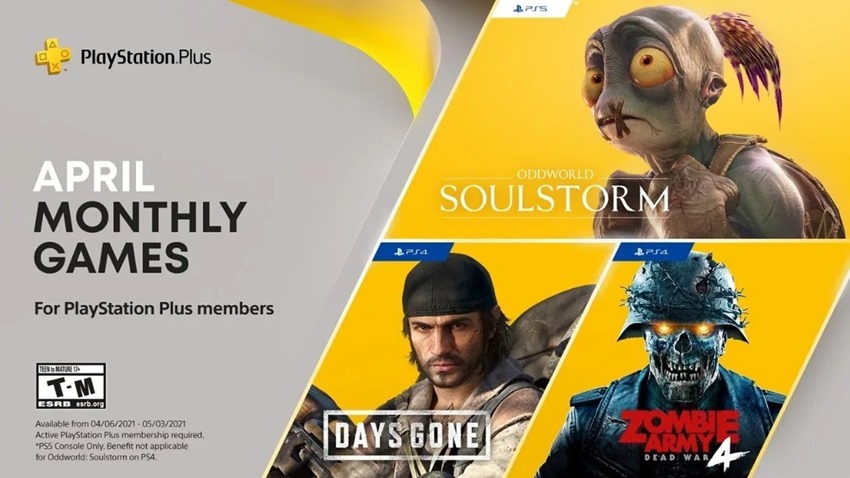 Sony has a trio of new games to hand from April 6, and provided that your PS Plus subscription is active, the bouncer to that club will be happy to let you in once he checks that your name is on the list. It's actually an impressive month for the service, which has been stepping up recently to drop not just well-received games, but new ones as well.
On PS4, you'll be able to grab Days Gone and Zombie Army 4: Dead War, while PS5 owners can add Oddworld: Soulstorm to their download queue. Oddworld's inclusion makes for a nice change of pace, as the single-player throws plenty of story, platforming, and weirdness at players. A long-awaited follow-up to New 'N' Tasty from about seven years ago, just remember to randomly shout "follow me" after huffing some helium while playing it.
Zombies fans are basically spoiled for choice this month. Days Gone is an underrated sandbox of terror where the odds are stacked against you, and survival isn't always guaranteed. The sheer number of freshly-infected bodies that it can throw at players is absurd, Sam Witwer's acting as the game's lead protagonist Deacon St. John is superb, and the entire experience is a brilliant showcase to what the PS4 was capable of at its very best.
Lastly, Zombie Army 4 is just fantastic cathartic fun. Hordes of the undead, their overall bastard nature amplified by the fact that they were Nazis in a former life, shambling towards you. The only thing stopping you from Reich Said Fritz? An uncanny aim, as Zombie Army 4 takes the best bits from the Sniper Elite series, throws in a gung-ho attitude, and lets you rip through the Axis forces in bloody fashion. It's really one of developer Rebellion's best efforts to date.
PS Plus games available April 6 to May 3
Oddworld: Soulstorm (PS5 only)
Days Gone
Zombie Army 4: Dead War
Over on Xbox, it's also a decent month for that service. Outriders leads the charge on Xbox Game Pass, and Games With Gold subscribers can also nab games featuring Vikings, the biggest of rigs, and rocketeers.
Last Updated: April 1, 2021