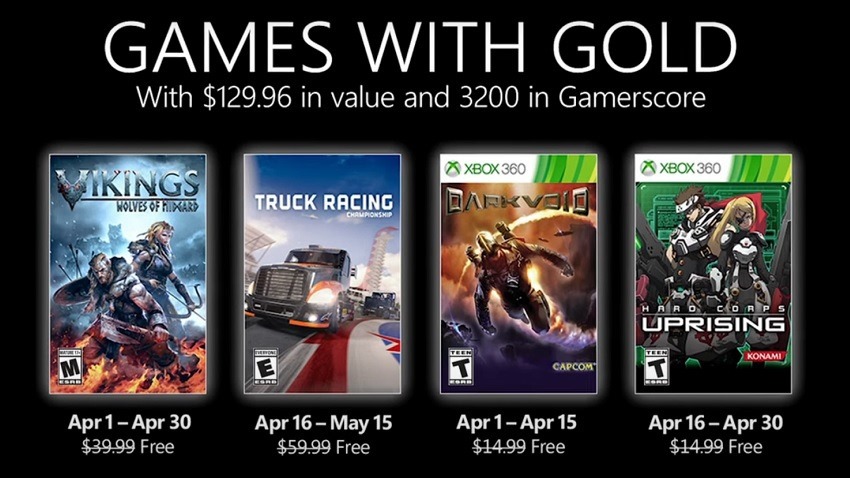 April, a month that starts with a day where people truly do not wish to look the fool, is almost here. And you know what that means: Free cake! I mean games, yes that one! So what's on the Microsoft docket in April's Games With Gold promotion? Provided that you have an active Xbox Live Gold subscription, which is also included in a Game Pass Ultimate subscription, you can grab the following quartet of games: Viking: Wolves of Midgard, Truck Racing, Championship, Dark Void, and Hard Corps: Uprising. Here's when they'll be available.
April 2021 Games With Gold
Vikings: Wolves of Midgard — April 1-30
Dark Voice — April 1-15
Truck Racing Championship — April 16-May 15
Hard Corps: Uprising — April 16-30
Vikings: Wolves of Midgard was originally released in 2017, and features pretty much all of your usual Nordic action, mythology, and big strapping blokes wielding massive pieces of sharp iron as they seek to halt ye olde Ragnarok from bringing an end to everything. Truck Racing Championship is a newer title dating back to 2019, and spoiler, it involves using one of 45 heavy-duty transport vehicles to cross the finish line. That's a big rig you got there pal, a real nice rig.
Over on the older side of gaming, Xbox 360 is being represented by 2010's Dark Void. It was actually a novel game at the time, emphasising verticality in a world where the only way to fight back against hostile alien invaders was to strap a rocket-pack to your back and hope that Elton John didn't sue you for coopyright infringement.
2011's Hard Corps: Uprising rounds out the list, and if you're a fan of some old-fashioned run 'n gun gameplay, then this will be right up your alley It's a Contra spin-off, and while I have no idea if its any good, it can't be anywhere near as bad as the last game that famed pachinko machine manufacturer Konami trotted out on Nintendo Switch a while back.
Don't forget that you still have a few hours left to claim March's Games With Gold. That includes Warface: Breakout and Port Royale 3, with VALA: Vicious Attack Llama Apocalypse still being up for grabs until April 15.
Last Updated: March 31, 2021