By Michael 'axtremes' Harmse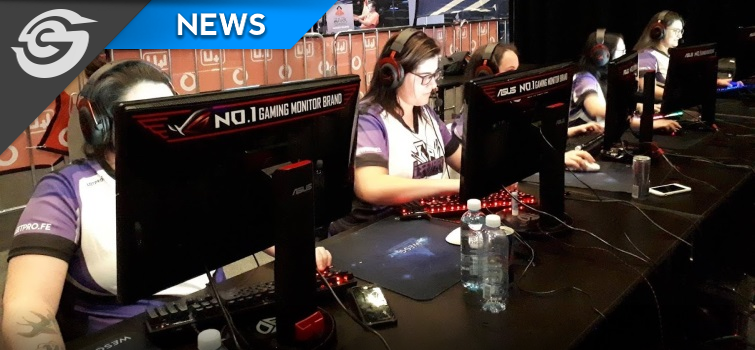 It's been a few weeks since Leetpro.Fe overcame the previously all-conquering Bravado Finesse side to win Mettlestate's Asus Valkyrie Challenge Season Two. They looked totally in control in the final and were able to best Bravado Gaming in four maps in the best of five Grand Final, 3 – 1. This was quite a turnaround after Bravado beat them 0 – 2 earlier in the playoff bracket.
The 180
Since beating Bravado Gaming in December 2017 in the WESG Qualifier when Sharon "ShazZ" Waison last played in the squad, they've consistently played second fiddle to Finesse, including in the Season One final. Now, with ShazZ back in the lineup, they've returned to the top of the South African female CS:GO scene.
Super stoked Psymone_
I chatted with an elated Simone "Psymone_" Eskelsen from Leetpro.Fe right after their win. The interview release was delayed by a few weeks unfortunately, but here it is nonetheless. In the interim, the Leetpro.Fe side were sadly released by the Leetpro organization and are currently without an MGO. You can read their press release here. At the time of the interview, we both knew of the impending change which is why it was addressed in the interview.
Image courtesy of Leetpro Esports.
ax: There's been this constant monkey on this side's back…Bravado Finesse. The only other time you beat them when it really mattered was with ShazZ for WESG. How does this victory rank against that one? How are you feeling after the win?
Psymone: The improvement of the team from WESG until now was massive. It's almost like a whole new game. We worked very hard as a team to win this season of Valkyrie. Winning just showed that all the hard work paid off.
How much of an influence did ShazZ have as a player and as an additional experienced voice in the team?
Having ShazZ on the team helped a lot. I personally learnt so much from her as a player. Somehow, she's always an extra step ahead of the opposing team.
In terms of leadership and in-game calling, did you feel like your team had an edge over Bravado Gaming?
Karla "Scorpz" Grewar is a great in game leader. She really knows what she's doing! Also, outside of games she kept us calm and told us nonstop that we've got this! This helped keep the team morale up.
Was there a pivotal moment in the series where you felt like that was the turning point or a defining moment? The one where you knew this title was yours.
I knew when we came back from 4-11 on Cache that it was possible to win. However, we took every map round by round. 
Is there a player you'd say was the MVP of your team?
Everyone played extremely well, but my MVP definitely goes to Scorpz. Her leadership in and outside of the game was amazing. Don't even get me started on her AWP shots! She was on fire all weekend.
Leetpro is dropping the female team even after the win. I know it was coming for a while. Do you have any thoughts on that?
We knew we were getting dropped after the tournament. That's why I'm glad we could end on a win.
Are you confident the side will be picked up by another org or are you planning to stay independent for a while?
We aren't just rushing into anything yet. We're looking for an org that has the same goals as us and will help us achieve them. Until then we'll stay independent. 
Any people you'd like to thank or give a shout out to?
I'd like to thank Mettlestate for growing the female community the way they have! Thank you to Mettlestate as well for allowing us to use the Mettlestate HQ so that we were able to play together in the playoffs. Also, a massive thank you to our coach LighteRTZ for teaching us everything we know. Finally, to everyone that supported us, you're the real MVPs!
Like esports?
Check out esports central
Last Updated: October 18, 2018