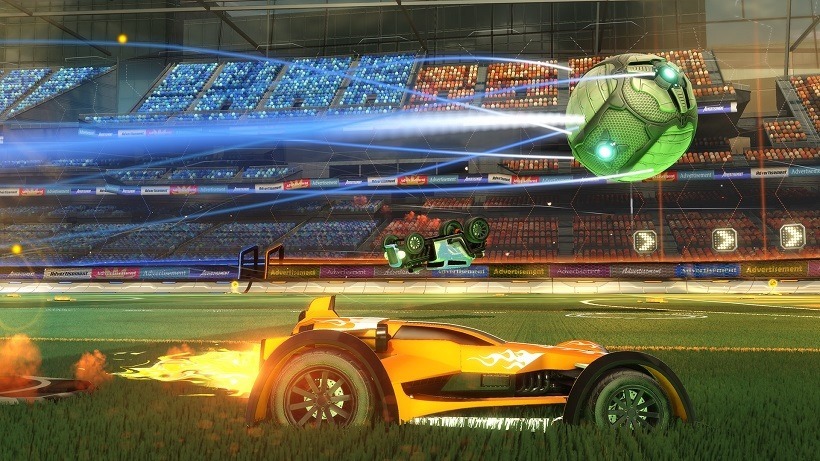 We take Rocket League pretty seriously here at Lazygamer. Gavin in particular, plays the game relentlessly. Why? Well, his hard work and dedication comes courtesy of the Lazygamer All Star team not winning our very own tournament back in December, despite my best efforts to have it rigged (shhh don't tell anybody). Believe me, Gavin doesn't like to lose.
As a result, the past few months have been hell for Alessandro and I. It doesn't matter where we are, or what time it is, because Gavin will often appear, duct tape controllers to our hands, and then force us to train for dozens of hours straight.
Under ordinary circumstances, I'd leave the country just to escape this madness, but now, I realise that Gavin is actually a genius. He's just been preparing us to win the Rocket League Championship Series, which has just been announced (via PC Gamer):
Grab two friends and form a three-person team, then register starting March 25 to compete in the first season of the Rocket League Championship Series! Each RLCS season will span three months and feature teams from all over North America and Europe. The top-four teams in each region will be invited to compete at a live International Finals event for a shot at glory and their piece of the $75,000 prize pool!
Thanks to Gavin's foresight and strict training regime, the Lazygamer All Stars are all but certain to win that $55,000 grand prize! You can enter too I suppose, but don't come crying to me when you don't win all that cash dollar.
In all seriousness though, I'm happy that Psyonix and Twitch have partnered up to make this tournament a reality. I hope it becomes a regular feature moving forward.
Will you be entering? Best you get practicing if you are – the open qualifier kicks off in just three weeks time!
Last Updated: March 3, 2016