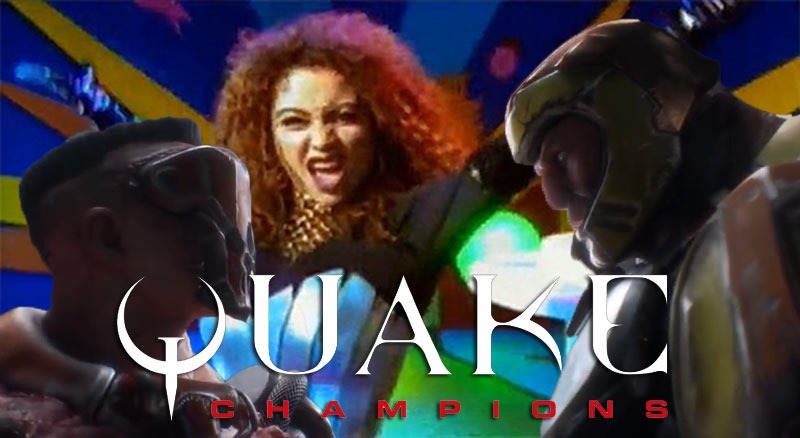 It feels like an odd time to bring the Quake franchise back, so soon after DOOM just released. For many of us, it's a cherished game from three different eras: The ballsy first game which took the ball that DOOM created and ran with it, the mind-blowing sequel that upped the visual ante and that third majestic game that was responsible for me throwing my back out when I lugged that heavy as f*** PC of mine up the stairs to a Friday night LAN.
Quake Champions is meant to herald in that next era for the series. Even though it was basically just a CGI trailer of a meaty cyborg with impeccable hair murdering his way through the competition when Bethesda announced it at their E3 press conference, they were still adamant that this was going to be a properly old-school competitive experience. So old-school in fact, that it's skipping consoles and going PC exclusive.
And that's because id Software wants to show off the best possible experience with features that you probably wouldn't even notice. "It's everything from input sampling of the mouse to making sure that your monitor refresh rate is fast enough," creative director Tim Willits said to Gamespot.
Because even with Quake Live, we have found throughout the years that going from 30 to 60 is huge, but even 60 to 120–is noticeable. Most of us, and even me, I can't really tell the difference. But there are some players who are inhuman. And we can't come out and say we're going to make a game for them and not run ridiculously fast.

Because if we lose the pro guys, we're in trouble.
I'm dead keen to see just how much power id can crack out of a PC. Remember that demo they showed off of DOOM a few months back? Now imagine that with a Quake flavour. "That's why it's a PC game. No excuses. No limitations," Willits said. And I kind of believe him. Which is probably why I'll also stay far away from Quake Champions, because the kind of person who plays these games with a serious mindset and has the money to splash on building a rig that can handle it scares me.
Last Updated: July 1, 2016