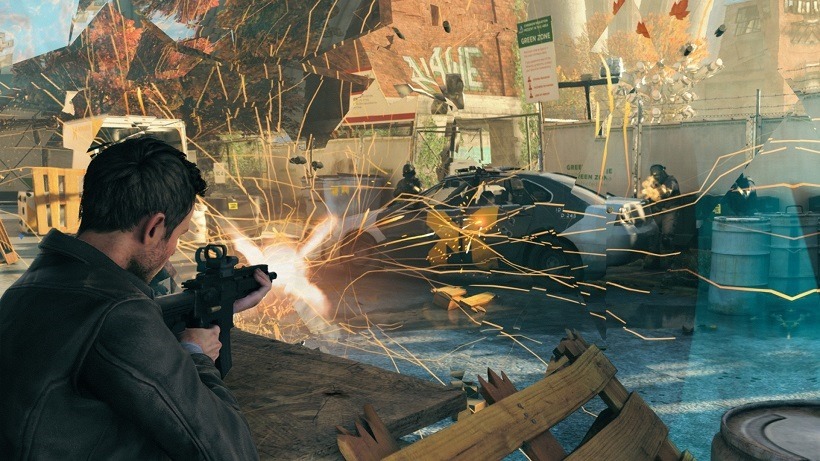 Quantum Break is a great game, and I said as much in my review of the Xbox One version earlier this month. The game is still up there in terms of quality with the best the console has to offer, but it's no secret that those unfortunate enough to have purchased the PC edition are having a very different experience with the game. Handicapped by Microsoft's Universal Window Platform, Quantum Break is plagued with a number of crippling issues on PC. Issues that Remedy Entertainment might fix this week.
Remedy have been rather quiet over the past few weeks concerning patches for Quantum Break, but yesterday revealed that the title's second update should be coming around to both Xbox One and PC by the end of the week. There's no change log yet, but considering the last we heard from Remedy included a long list of PC issue they wanted to fix, it's a good bet that many of them have been addressed. Hopefully.
Title Update 2 for Windows 10 and Xbox One @QuantumBreak is currently in certification. Hoping for release by end of the week.

— Remedy Entertainment (@remedygames) 25 April 2016
The game is the second to be bogged down by the platform it has been released on, with similar performance issues killing Gears of War: Ultimate Edition just a few months ago. Microsoft is desperately trying to address issues at a grassroots level too, but right now any game released exclusively via their platform has been a mess. It's a combination of factors that restrict PC Gaming far more than it should, while criminally under-utilising powered hardware such as SLI and Crossfire setups and high refresh rate monitors.
Quantum Break is just another victim to UWP, and Remedy is doing the best they can it seems to fix what they can from their side. It's a pity that the game is in the state that it is too, because Quantum Break at its finest really is a remarkable experience. The narrative is engaging and well written, and the time-bending gameplay becomes satisfying very early on.
Still, despite this patch, it's probably still wise to pick it up on Xbox One if you can. At least until we know for sure that the PC version is up to scratch.
Last Updated: April 26, 2016