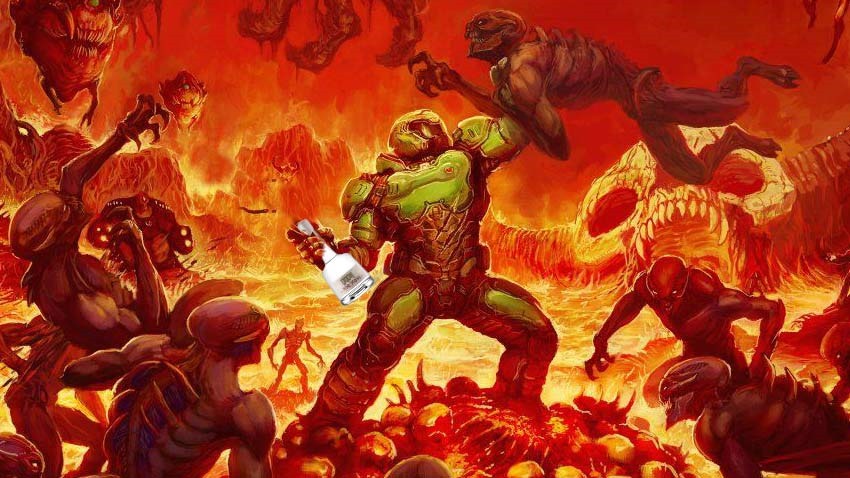 I'm starting to think that there may be some lucrative potential in the DOOM brand. Just imagine it: DOOM endorsed chainsaws which claim that their myriad titanium teeth can fell even the toughest of demonic abominations from another dimension built entirely on pain and suffering. DOOM branded Ouija boards which are still complete horse crap in their use but these ones have razor-sharp edges that can be used to slice open the infected faces of non-believers.
DOOM first aid kits, which are basically pricy white blocks with a red cross on them that you're trying to blunt force into the gaping chest cavity of a friend who got gruesomely injured in a game of ULTIMATE HOPSCOTCH but just more EXTREEEEEEEEEEEME. There's nothing that DOOM cannot make better, and if you've currently got a hankering for firewater that'll clean your guts of demonic possession and stomach lining, then buddy do I have a deal for you.
In news that I totally swear is not because I've been paid off with a crate of the stuff because I am more teetotal than a late 1800s virtue parade for temperance, Bethesda has tapped Rebel Distillers to bottle the blood of demons and sell it as DOOM Bone Vodka. According to the producers, DOOM Bone Vodka is made from actual bones, thus giving it a legitimate certificate of badassery: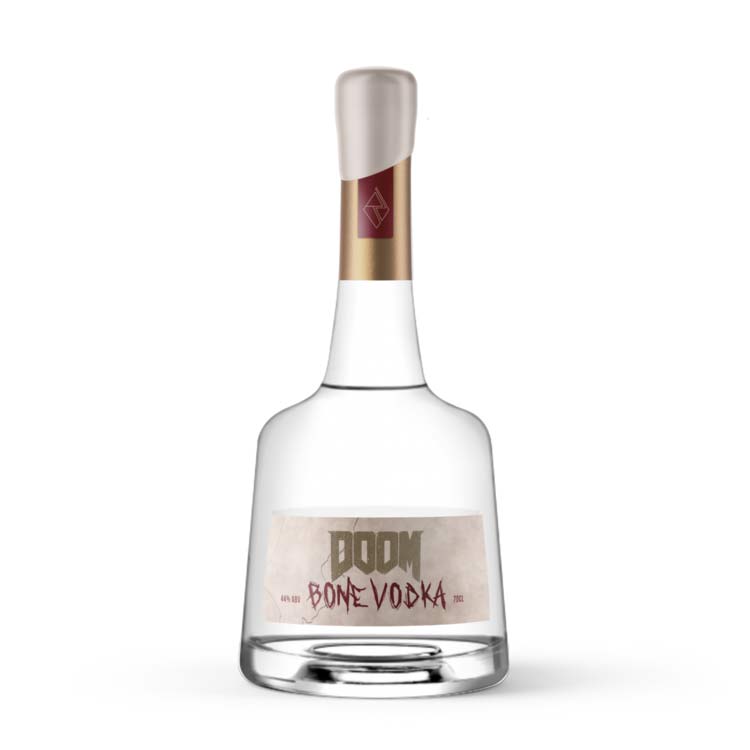 This world first vodka, using bones sourced from world famous butchers 'The Ginger Pig' –

If Hell created vodka….

How do you drink? However you damn well like, but to luge it ice cold through a bone always impresses.
The pitch is impressive but I'm kind of disappointed by the bottle design. Sure it's classy and sophisticated, traits that do not exactly match up well with what DOOM is. A bottle celebrating the demon-slaying heritage of the groundbreaking FPS shouldn't look like something that is meant to be displayed at an evening soiree for the 1%.
A bottle of DOOM should evoke feelings of awe and terror, it should be shaped to bludgeon, rip and tear while you feast on the gut-burning nectar within and wash it down with demon blood. I'm just saying. If you still fancy some of the stuff, it'll run you £45 a bottle and can be exported to the UK, European Union and Auuuuuuuuuustralia. It's apparently 44% ABV as well, so there's a guarantee of blood in the morning after a bender. EXTREEEEEEEEEEEEEEEEME!
Last Updated: September 9, 2019