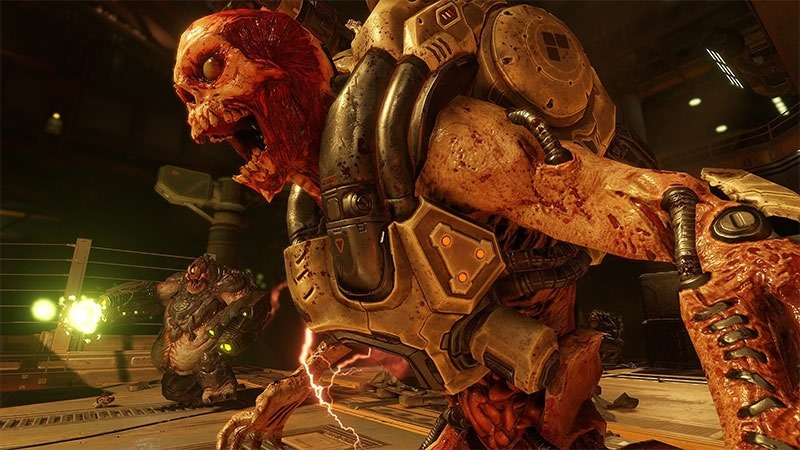 This year's DOOM is arguably one of the greatest shooters that's been released in ages – particularly if you take its excellent single player campaign in to account. It's dropping with old-school charm, but updated just enough to feel fresh and modern. Most of all, it's brutal and satisfying. Yes, it's another game about killing things, but it does the whole power fantasy thing superbly.
Its multiplayer's been a bit of a damp squib, oddly – and that's despite its robust Snap Map feature that allows users to create not just levels, but whole games. That hardly matters though, because the game is worth it just for its single player campaign. And that's come as a bit of a surprise to Bethesda.
Speaking in the latest issues of UK games Industry trade magazine MCV (via Videogamer), Bethesda's Pete Hines expressed surprise over how well the whole thing was received. Obviously, the people making the game loved it – but sometimes, the things you make go over like a lead balloon with consumers.
"If you are at Bethesda and play the single-player, you might think it's really fun and different. But you don't know if you're drinking your own kool-aid… is it really fun? Or are people going to play it and dislike the fact there's no voiced protagonist, or the fact there's no real story, and will they say: 'id Software hasn't got out of the 1990s. Same old, same old. 6/10'. You never know which of those two scenarios you'll end up getting."
The game took a bit of an old-school shareware approach to release, with a limited demo for the game after its release – and that's something that got people to care a little more about the campaign.
"We did the single-player demo after launch," Hines continued. "We had showed off the multiplayer, but we hadn't managed to show as much of the single-player. So giving folks the chance to try it… well it turned out to be a good idea."
If you are a fan of old shooters, but want to play something that puts just enough of a modern spin on them while also looking great, you really ought to give DOOM a try. Here's what we said of it in our review:
DOOM is unrepentantly old school. It's gore porn to the max, a ballet of bullets and blood that I can't get enough of. Satisfyingly brutal, solid and most importantly, fun.
Last Updated: September 23, 2016