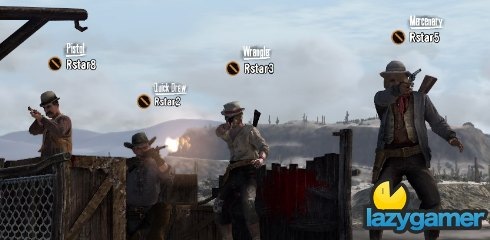 Red Dead Redemption: Outlaws to the End is the title for the upcoming Co-Op DLC announced by Rockstar overnight.
While we were all pretty sure that co-op would be making an appearance in Red Dead Redemption nothing had been announced yet and I wasn't sure how it would all pan out.
According to Rockstar founder, Sam Houser
"Multiplayer in Red Dead Redemption offers players a whole new way to encounter the massive open world we've created, but we felt the experience would not be complete without co-op game play

With these missions, we wanted to create new ways for players to share in the experience of engaging with this amazing landscape."
This will be the first of 3 downloadable content packs and will include 6 brand new missions.
3 are being kept secret for now and the 3 others are as follows
Walton's Gold
Walton's Gang have taken control of a mining camp rich with gold. Fight through the camp and load your mine cart with as much gold as you can carry and get out as fast as you can – Walton's boys have rigged the place to blow.
The River
Ride a raft down river, taking out rebel encampments along the way until you reach the rebel stronghold of Nosalida and a final epic battle for the town's massive weapons caches. Watch out for Gatling gun-equipped enemy rafts.
Ammunition
The Mexican Army has the town of Tesoro Azul under siege. Storm the gates under heavy cannon, Gatling gun and sniper fire to destroy the Mexican artillery placements.
This DLC also brings with it some extra achievements or trophies along with additional multiplayer XP rewards.
My only worry about RDR is that I may get bored wandering around the huge world as I don't have the greatest attention span, having 3 co-op partners keeping me in line is like a dream come true for this game.
Last Updated: May 6, 2010