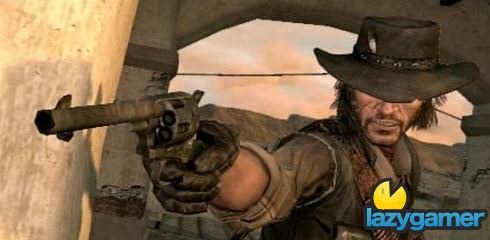 Rockstar has announced that Red Dead Redemption for PS3 and Xbox 360 will be getting 4 DLC packs over the next couple of months, and one of them involves zombies!
Rockstar's Dan Houser says that "Our goal is to continue to pack as much entertaining gameplay and as many surprises as we can into the massive world of Red Dead Redemption over the coming months."
The DLC packs will include more single player, more multiplayer maps, more modes and even include the ability to do some cool stuff with your buddies, like play Poker together. We have the full details as well as pricing after the jump.
The first pack, titled "Legends and Killers" will release at the beginning of August but no other dates have been given for any of the other packs. Instead we have word from Rockstar that the releases will continue on into the USA's autumn.
Each pack will set you back 800 MS Points or around R80.00 ($9.99) and will all include more trophies and achievements for you score whores out there.
Here are the details:
Legends and Killers:
Includes 9 new multiplayer maps
8 new multiplayer characters
New weapon: Tomahawk
Liars and Cheaters
Attack and Defend multiplayer mode and challenges
New Horse races with mounted combat
Play as the heroes and villians of Red Dead Redemption
8 more multiplayer characters
Multiplayer Poker and Liar's Dice
New weapon: Explosive Rifle
Free Roam Pack
Additional Free Roam challenges
New defensive placements
New action areas
Posse scoring
Leaderboards
Anti-griefing features
Undead Nightmare
Brand new single player adventure
Challenges and quests
8 zombie multiplayer skins
Additional animals unleashed in the world and more
New single player adventure that involves zombies? Sign me up!
Source: VG247
Last Updated: July 9, 2010