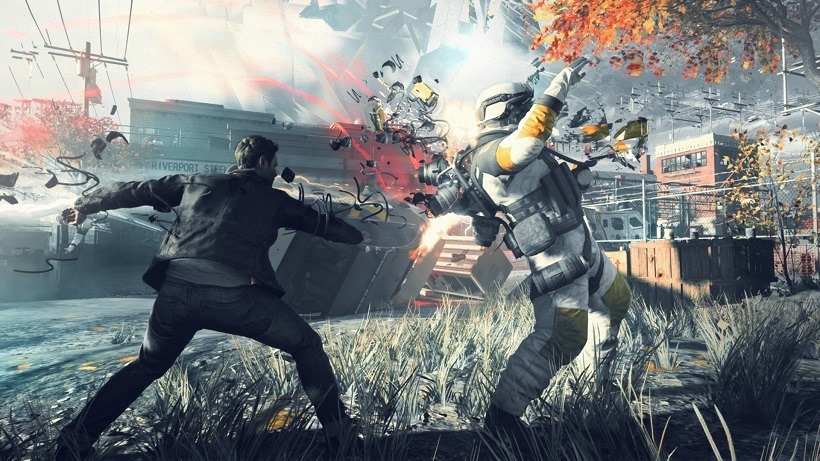 I'm busy playing through Remedy's latest new IP, Quantum Break, as we speak, and it's fairly clear that its more than just another heavily narrative driven shooter from the studio that brought us Max Payne and Alan Wake. Quantum Break is meant to be a technical showpiece for the Xbox One, delivering stellar visuals and advanced effects that a system seller usually flaunts. That suffered a blow yesterday when it was revealed that the exclusive runs only at 720p, but Remedy have fired back.
Speaking down to the idea that resolution is the be all and end all when it comes to visual fidelity, Remedy explained some of the methods they used to produce a clean, crisp image with Quantum Break. Yes, the game runs at a native 720p, but it does so for 4x MSAA anti-aliasing and an effect called temporal reconstruction. Used in Alan Wake too, temporal reconstruction mitigates the effect of sub-1080p rendering, retaining information from the past four frames to smooth over the rendered image.
"Quantum Break's 1080p output is a temporal reconstruction from four previous 720p 4x MSAA frames. This approach gets us high pixel quality in combination with complex shading and effects, allowing us to achieve a cinematic look. However, varying sample counts between passes and temporal upscaling makes talking about resolution, as it is traditionally understood, complicated in the case of Quantum Break."
The technical gurus over at Digital Foundry remake that this method was used in Alan Wake to great effect too, with the Xbox 360 title managing to be one of the best looking games on the system while actually running at a low 960×544 resolution – a big drop from the then standard 720p. Taking that into account with the truly impressive lighting and visual effects that Quantum Break bombards players with starts to paint a clearer picture, and one the Remedy hopes fans will still appreciate when the game is out.
"Since the start of Quantum Break's development, the most important thing for Remedy and Microsoft has been delivering a compelling gaming experience with superior artistic quality. This is what Remedy is renowned for. We're confident that we have achieved this, and can't wait to hear what fans think on April 5 when they play the game."
But it's another lesson on how pixel counts don't always tell the entire story. Quantum Break looks better than a large portion of titles out right now and manages to do so through the use of clever rendering techniques over raw pixel pushing. Would it have looked better at 1080p with these bells and whistles? Perhaps, and that's probably what PC will show.
But without actually knowing the amount of work that goes into optimising games like these to look their best, its easy to scoff at a four letter representation of countless hours and shrug it off as lazy. Remedy is trying to convince you that its anything but, and I tend to believe them.
Last Updated: March 23, 2016