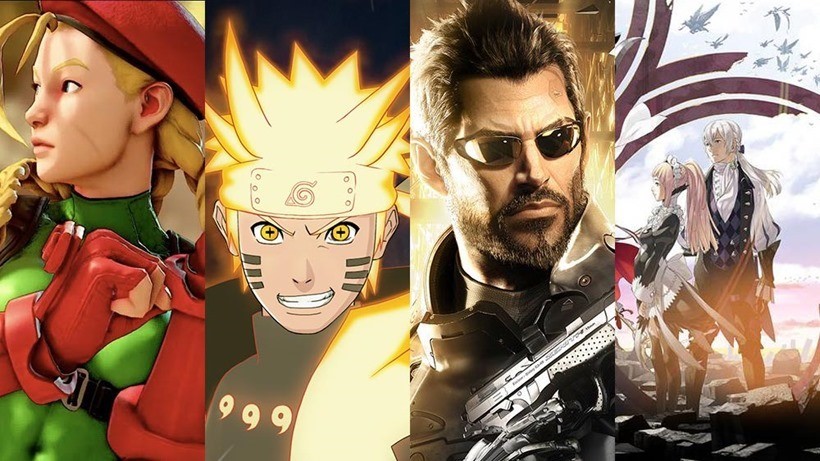 We've already seen plenty of big-name games released in February: Evolve, Dragon Ball Xenoverse, Don Bradman Cricket and The Sims 4. Good games! Hell, we're still playing at least one of them. It's not Evolve, I'll tell you that much. Anyway, the first quarter of the year has become the new breeding ground for big budget releases. And 2016 looks no different.
Behold the list of February 2016 games!
Digimon Story: Cyber Sleuth
XCOM 2
Arslan: The Warriors of Legend
Firewatch
Gravity Rush Remastered
Mighty No. 9
Naruto Shippuden: Ultimate Ninja Storm 4
Project X Zone 2
Street Fighter V
Fire Emblem Fates
Deus Ex: Mankind Divided (I CAN SEE THE FUTURE BASED ON MY CLOSING STATEMENT BELOW!)
Far Cry Primal
Now compare that to the big name February game releases of 2014:
Fable Anniversary
Outlast
The Lego Movie Videogame
Bravely Default
Lightning Returns: Final Fantasy XIII
One Piece: Romance Dawn
Skullgirls Encore
World of Tanks: Xbox 360 Edition
The Last of Us: Left Behind
LocoCycle
Assassin's Creed IV: Black Flag – Freedom Cry
Earth Defense Force 2025
Donkey Kong Country: Tropical Freeze
Rambo: The Video Game
Basement Crawl
Castlevania: Lords of Shadow 2
Plants vs. Zombies: Garden Warfare
Tales of Symphonia Chronicles
Thief
Professor Layton and the Azran Legacy
Or 2013 even:
Fire Emblem Awakening
Dead Space 3
Fist of the North Star: Ken's Rage 2
Sly Cooper: Thieves in Time
We Sing 80s
Brain Age: Concentration Training
Alien Breed
Aliens: Colonial Marines
Omerta – City of Gangsters
Persona 4 Arena
Sonic & All-Stars Racing Transformed
Crysis 3
Metal Gear Rising: Revengeance
Baldur's Gate: Enhanced Edition
Driftmoon
Dynasty Warriors 7: Empires
Etrian Odyssey IV: Legends of the Titan
Ninja Gaiden Sigma 2 Plus
Look, the point here isn't about quantity. It's about quality. Or the perception thereof, based on the number of trailers that I've consumed without asking too many questions. But 2016 is continuing the current trend of many a publisher dodging the November/December release window, for greener pastures.
And by ducking, I mean delaying a game for "polish", a statement that regularly causes me to arch my eyebrow so high that The Rock sends me a cease and desist letter for infringing on his People's Eyebrow gimmick. And I'm happy with that. February used to be devoid of any real games to break the bank on, with Capcom usually being the sole publisher around in a barren landscape of releases.
Now, I've got something to look forward to, that gives me hope when I realise that I need to spend a Christmas afternoon with my extended family. At least until half of those games get delayed by another month for more "polish".
Last Updated: November 18, 2015