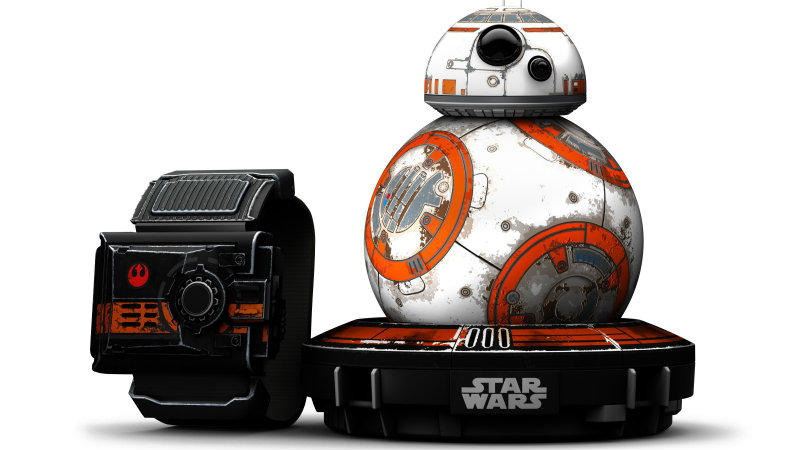 I don't normally get jealous of our giveaways. Yes, we have had some cool ones, and of course I would never mind winning games and cool swag, but usually I can casually comment "oh, that's cool" and then move on with my life. This giveaway? It makes me sad that I can't enter – it's just so cool! So, let me live vicariously through you; go and enter to win a Special Edition Battle-Worn BB-8 with Force Band before it's too late.
In case you forgot, here is the description of what we're giving away:
The Force™ is strong with you. Channel it with the Star Wars™ Force Band™ by Sphero. Like a Jedi Knight, you can control your BB-8™ App-Enabled Droid™ with just a wave of your hand and expand your abilities with Force Training. Use the band by itself to complete Combat Training for Blasters, Lightsabers, and the Force itself, or collect digital holocrons in your environment through Force Awareness. Fulfill your destiny and become strong in the ways of the Force.

Pair your Force Band with Special Edition Battle-Worn BB-8, straight from the sands of Jakku. This Astromech Droid reflects the wear and tear of trekking across the galaxy on Resistance missions. Watch your Droid explore autonomously, guide BB-8 yourself, or create and view holographic recordings. The Force Band is also compatible with the original BB-8 App-Enabled Droid by Sphero and Sphero robots powered by Bluetooth SMART.
Huge thanks to the iStore for letting us give away such a cool prize, valued at R3 999. Entries close tomorrow, 9 December, so fill in this form before it's too late.
Error: Contact form not found.
Prizes can only be sent to those with an address in South Africa, and you will get one entry per unique email address. That means Gmail aliases get binned.
Last Updated: December 8, 2016