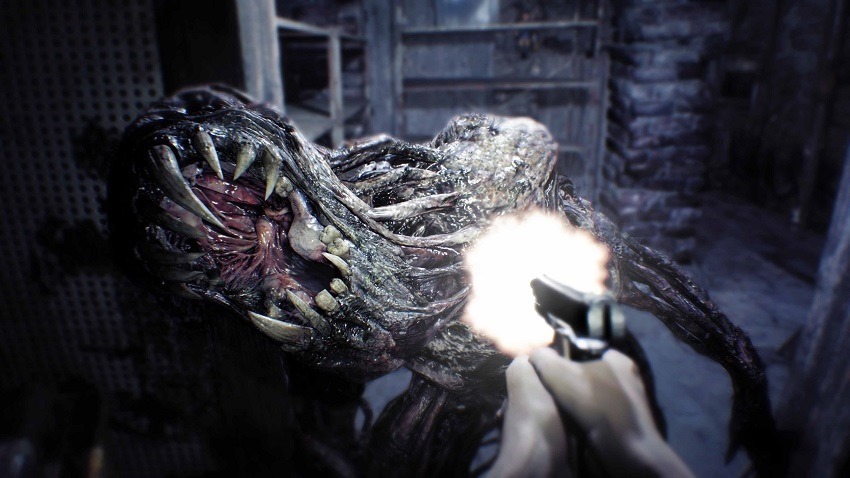 I don't really do horror games. In fact I don't really do horror anything. While most crave the adrenaline rush associated with being scared out of your skin as a thrill, I detest the feeling. The constant-on-the-edge-of-your-seat type of tension that just doesn't satisfy me with the punch line. Except for Resident Evil 7, which shipped with PlayStation VR support out of the box. So how else was I going to see if I liked it without trying that.
And sweet Christmas is it scary. I mean I already knew that Resident Evil 7 was a return to form in terms of actually delivering tense, atmospheric horror, but putting that into VR just cranks the dial up to 11. I've managed to get past the opening few hours, but I don't think I've ever stopped a gaming session and had my heart racing quite like it was a few evenings ago. Naturally, nothing shows that off better than actually watching me come really close to ejecting out of the game during my first play session.
What I didn't expect to happen was to crave another session straight afterwards. Resident Evil 7 comes with some gorgeous visuals that aren't always faithfully represented in VR. It has HDR support which bathes the game in stunning lighting. And playing it on a standard TV setup certainly makes it a little more manageable to control and play. But I don't want to experience it like that, because I can't imagine not being as immersed in the Baker Family house as I was when I first entered.
That in a nutshell is the beauty of VR, and more specifically how well it lends itself to games with a tense, horror nature. There simply isn't a better way to experience these sorts of titles, and especially so for ones that make it so comfortable to use. Capcom offers a range of options to tweak your VR control scheme, ranging from the comfortable 30-degree turns that I settled on to the potentially stomach turning free motion. Ensuring that players are comfortable (relatively speaking, since I was never truly happy exploring the derelict house) is paramount to VR implementation. And Resident Evil 7 is a good example of it being done right when needed.
So if you're lucky enough to have snagged a PSVR unit last week, Resident Evil 7 should certainly be on your short list of games to play. It's seriously worth the trip.
Last Updated: February 8, 2017