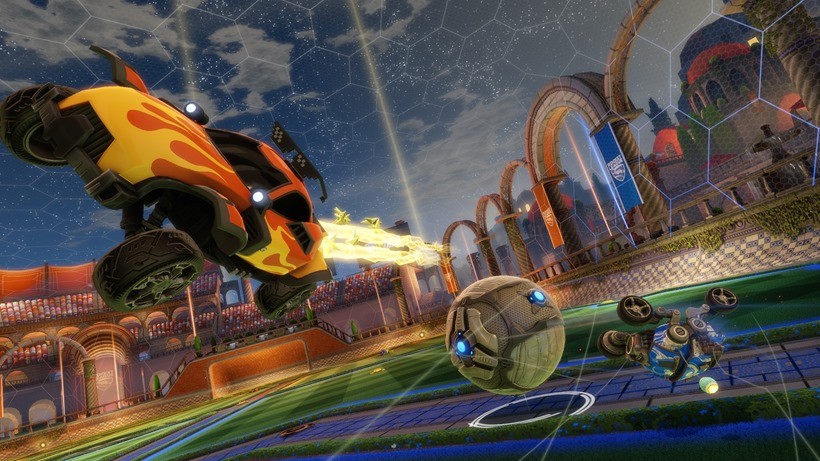 Did you know that Rocket League is actually a sequel? That's right, it's the follow up game to 'Supersonic Acrobatic Rocket-Powered Battle-Cars', and no, I'm not even kidding… that's genuinely what it was called. The next Rocket League DLC, called Revenge of the Battle-Cars, takes inspiration from that first title.
Currently driving through Sony's certification process, Revenge of the Battle-Cars has all sorts of cool stuff inspired by our first official trip to the pitch! When it arrives just a few short weeks from now, our "new-but-old-school" DLC will feature a number of awesome customization items that longtime SARPBC fans should immediately recognize…
So yes, it's a cosmetic pack. What did you expect from a (racing) sports title anyway, more story bits? Here's a breakdown of what you'll get for your $3.99 should you decide to purchase the DLC when it arrives in October:
2 Classic SARPBC Battle-Cars, Scarab and Zippy
12 New Decals (six for each new car)
3 New Paint Types (Toon Glossy, Toon Matte, Toon Wood)
2 New Wheels (Scarab and Zippy)
2 New Rocket Boosts (Accelerato and Battle-Stars)
4 New Toppers (Cavalier, Locomotive, Pixelated Shades, Shark Fin)
2 New Antennas (Retro Balls from SARPBC)
5 New Achievements
If you couldn't  be bothered to cough up extra cash, fear not – Pysonix will be putting out other free stuff alongside the DLC…
Besides our paid Revenge of the Battle-Cars DLC, we're also continuing our tradition of giving everyone extra FREE stuff to go along with it. This time around, it's the debut of two new variations of our existing arenas, Urban Station (Night) and Utopia Coliseum (Dusk). These variants are the last "regulation-style" maps you'll see for while, by the way, as our next few arenas after that will focus on more "unusual" layouts and settings (more on those later this year). Additional FREE goodies, like new music, Community and Country flags, and our customary updates and optimizations will ship alongside the DLC.
That really is rather nice of them. Who doesn't like free stuff? Nobody!
I like Rocket League enough that I think I will definitely be buying the DLC. What about you? Will you purchasing the cosmetics? Or are you happy enough with all the other free goodies that'll be shipping alongside the paid content?
Last Updated: September 21, 2015