Revenue sharing in esports is slowly becoming the norm as the young industry looks to create a lucrative environment for all participating teams and organisations. In their latest statement, Riot Games has gone public with their franchising plans for the North American League of Legends Championship Series. The biggest developments detailed changes coming in 2018 to the pro season, promotion and relegation will be changed to include permanent league spots for teams. These teams will enter revenue sharing and the Challenger Series, which would use to filter teams through relegation into the LCS, will change to the Academy League.
The application process for slots is open, and teams will be confirmed in November.
Yahoo Esports, in a discussion with Immortals CEO and TSM owner, discussed the hefty $10 million buy-in for existing teams and a $13 million buy-in for new teams. There will no longer be a bidding process for slots, as confirmed by Riot Co-head of esports Jarred Kennedy. There will also come a strict set of rules for teams who will be added as franchises including their brand planning and fan engagement, esports familiarity, and their sponsorship strategies. The interesting part here is teams within the LCS can have a second Academy team which will play in the Academy League, managed by that team.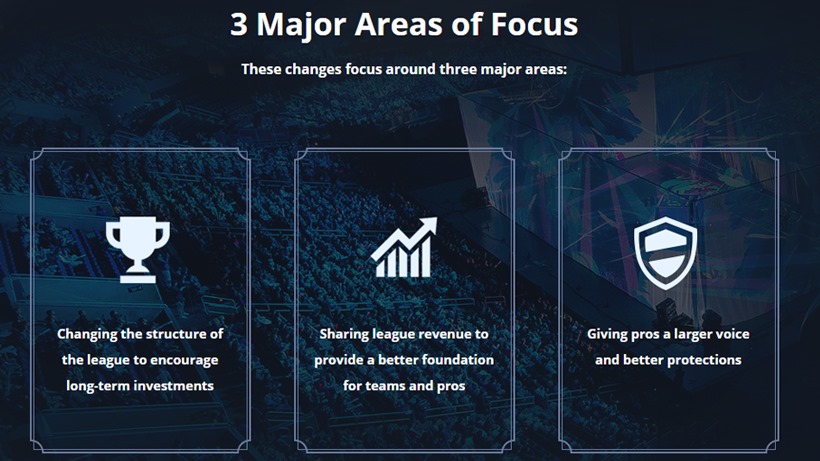 The most interesting part of the announcement is, of course, revenue sharing. Riot are committing a minimum player salary of $75,000 and will share 35% of league revenue with the professional players. Riot will also be sharing 32.5% of with teams where half of that will be shared equally among them, and the other half based on performance. The final 32.5% will be Riots. But, the big question, is what happens now that there's no relegation? Well, teams who lose a lot will be penalised, simple as that. The word used by Riot was "escalated penalties" for teams who consistently finish 9th or 10th place more than 5 times over an 8-split span.
Franchising is great, in my opinion at least, as it has existed in other industries like sports, the closest relative. There has been very little backlash so far, but we're still six months away from it actually happening.
Like esports?
Check out esports central
Last Updated: June 2, 2017