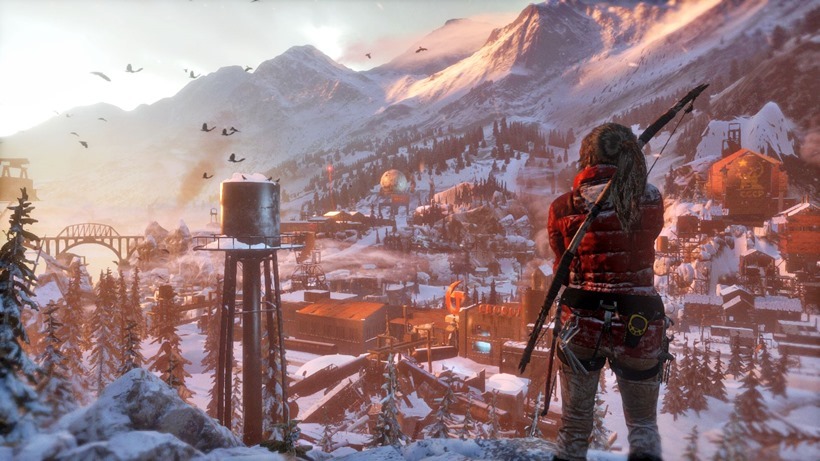 Rise of the Tomb Raider might be more about cracking necks than actually exploring tombs (especially if you've just watched short snippets of promotional footage), but it's looking a lot like an enhancement of the stellar reboot Crystal Dynamics created a few years back. What's waiting for Xbox owners is a similarly explosive, cinematic adventure staring one of gaming's oldest mascots, and it seems the entire thing will keep you far busier for long this time too.
The rebooted Tomb Raider was a tight, medium-sized experience which went on for about as long as you'd expect from an action game, hitting that 10 or so hour mark easily. Rise of the Tomb Raider will be nearly double that though, with lead designer Mike Brinker expecting fans to take anywhere between 15-20 hours to finish just the core content.
"It all comes down to how you want to play through the game. Running through the game will take you around 15 – 20 hours. So expect double the play time collecting everything and exploring every secret tomb."
Tombs are a big part of Rise of the Tomb Raider (I mean, it's in the name. Yes I've seen the trailers). They've been upgraded into sprawling hubs of exploration, filled with puzzles and treasures you'll need to keep coming back for. Speaking of hubs, the ones present in the sequel are far bigger now too, offering up some side content that should keep you off the beaten path for a few hours.
"In terms of scale, all our hub spaces, the areas that allow you to explore and choose your own way to play, have been increased by three time the size. So there will be lots more to see and do in each area of the game too. We have more challenge tombs, crypts, caves, and a bunch of extra things to do like the side missions for the Remnant people, and the tomb guardians."
If you're really going for everything, you're looking at a ballpark figure of around 40 hours of game time – which is substantial for a game of this nature. Add to that another 365 or so days, and you'll get a sense of how long Sony fans can play their imaginary copy of Rise of the Tomb Raider while they wait for this awful exclusivity deal to expire.
Rise of the Tomb Raider is out on Xbox 360 and Xbox One this November.
Last Updated: September 30, 2015