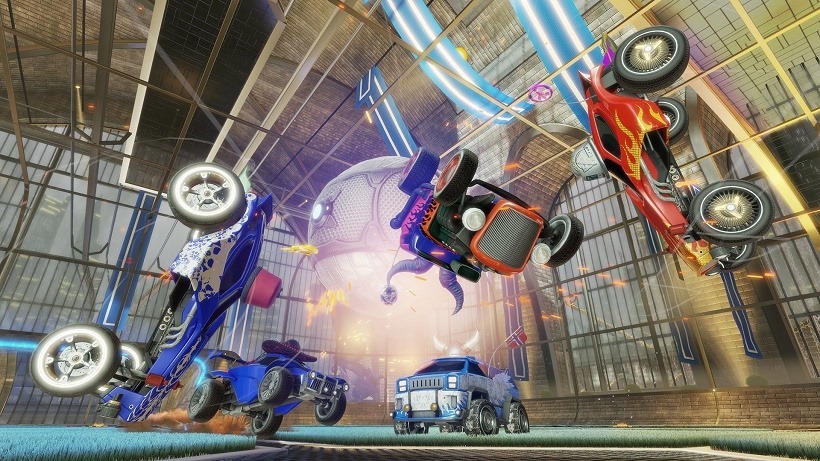 Compared to regular football, Rocket League is a very downscaled affair. Not in terms of action mind you, but with regards to the amount of people that can play in any given game. Instead of 11 cars going toe to toe… er… wheel to wheel, with another 11, Rocket League only has options allowing1 v 1 to 4 v 4. What if that player count got raised though?
It's something that could happen in future, at least according to Psyonix VP Jeremy Dunham. He had the following to say on Major Nelson's latest podcast (via Gamespot):
"We experimented with larger player counts but it's too crazy. Maybe one day we'll revisit it if we ever decide to go with bigger stadiums. But for now, more than 4v4 we think takes a little bit away from the enjoyment of the game; it gets a little too crazy."
Crazy indeed! 4 v 4 is far too chaotic for my liking, which is why I tend to stick with the likes of 2 v 2 or 3 v 3. Still, a larger player count would be interesting to see, and maybe fun to play in small doses.
With the release of Rocket Labs in the latest season 2 update, Psyonix have a lot more room to mess around at least. It's a platform they can use to throw out experimental maps to the community.
For now, they've only added three to the playlist, which are standard-sized, and only big enough to accommodate the usual player counts. In future though, Psyonix could release much larger arenas, which, as Jeremy put it above, is all they need to revisit the idea of throwing more players into the mix.
Personally, I'm happy to stick with my small-scale bouts. I really am dying to see the sort of chaos a 5 v 5 (or more) Rocket League game will provide though!
Last Updated: February 15, 2016