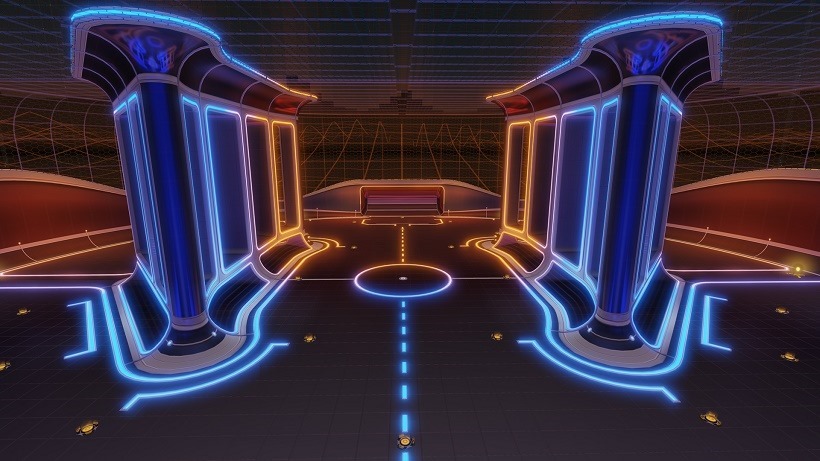 A couple of months ago (in February to be exact), Psyonix added a new feature called Rocket Labs to their VROOM VROOM football simulator, Rocket League. Simply put, it is an experimental mode of sorts, where the developer aims to add new maps to the game for players to test and mess around on.
In June, they'll be putting Rocket Labs to use good and proper.  A new arena called "Pillars" is being added to the mode (via VG247):
Available in the Rocket Labs playlist for both Online and offline Exhibition play, the visual aesthetic for "Pillars" will continue its tipped hat towards virtual-reality — only this time, with a gameplay emphasis on using multiple walls to your advantage. As you can tell from the screenshots, the "Pillars" title will be quite literal since two huge uprights loom over the middle of the arena.

These pillars separate the arena into three lanes, with the goals on each side lining up the center lane. Banking shots off the tall columns in the middle of the arena makes for some incredible moments and driving up the walls and flying down on the competition feels just right.
Pillars looks like good fun, but I already battle to play Rocket League decently on a standard map as is. Can you imagine how terrible I will be with giant pillars in the middle of the pitch? Spoiler: you'll lose if I'm on your team – guaranteed.
For those who play the game religiously though, Pillars will make a nice change of pace. There will be new tricks to learn, and new strategies to perfect. I'm genuinely quite excited to see what sort of pro plays spawn from this new arena!
Perhaps it's time I got back into Rocket League. I haven't touched it since the great Lazygamer war of 2016. Hang on, that was earlier this year!
Last Updated: May 27, 2016