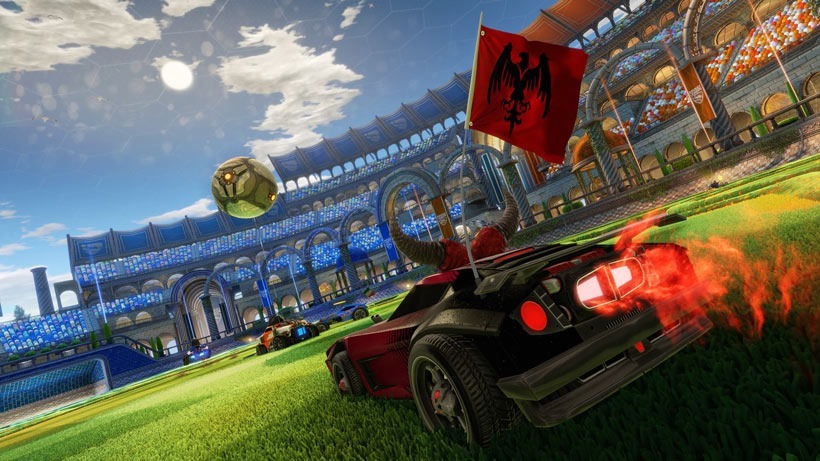 Rocket League has managed to become a phenomenon. The terribly addictive, vehicular take on football is more fun to play than most sports games, and most driving games. It's sold over a million copies on Steam, and has had innumerable downloads on PlayStation network, thanks to it being one of the games given as part of the PlayStation Plus Instant Games Collection.
It is, interestingly, one of the very few games that allows cross-platform play between PC and PlayStation 4 players. In matchmaking, PC gamers are often up against their console brethren – but the game's newest patch lets the mustard race ditch their console gaming friends. There's a new option to filter out console players, so that elitist PC gamers never have to play against PlayStation 4 gamers again, if that's their wish. This is functionality that's already in the PS4 version of the game.
Why? It seems some people using those archaic office input devices are finding themselves at a disadvantage when playing against those using controllers. Yes, in this topsy-turvy world of ours, people are actually finding that, for some games at least, controllers offer the superior input. Of course, PC gamers have the option to plug in an array of controllers themselves, making this whole thing moot.
The new patch will also fix and change a number of things, like broken text chat, saved game corruption issues, and other player usernames showing up as a series of asterisks. The team is also doing a Chivalry: Medieval Warfare crossover of sorts, adding in flags and liveries from that game…for some reason. There's also a new music player allowing you to cycle through tunes in the game's menus.
The patch is expected within the next two weeks. If you're not playing Rocket League yet, you really, really should.
Last Updated: September 4, 2015