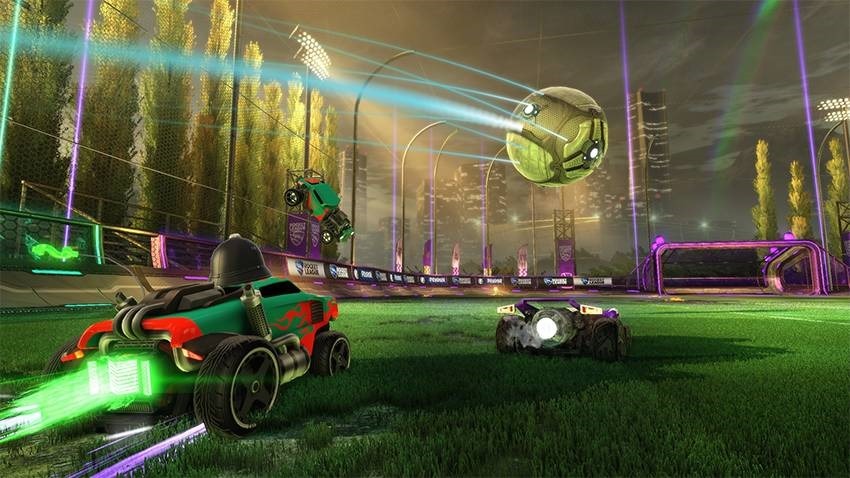 Rocket League is coming to the Switch, and it brings with it the ability to play online with friends who play on PC and Xbox. The notably missing platform is Sony's one – a situation that's mirrored with Minecraft, which also lets players bridge the platform divide when it comes to multiplayer.
The reasons that Sony gave for keeping its network gated are sad and miserable – extending, largely, to being about the children. Rocket League developer Psyonix has once again confirmed that the only reason that PlayStation doesn't play nice with the other platforms is purely up to Sony.
Speaking to Venture Beat, Psyonix Vice President Jeremy Dunham said that it's all up to Sony to let the developer enable cross-platform play.
"I understand their [Sony's] stance. We want to take care of our players," Dunham said. "But from our perspective, if PlayStation already allows cross-network with PC, which is the least regulated of any of the partners, then in theory, having Xbox and Switch in there should be fine.

They're a lot more regulated. From our perspective that concern is already handled. That's taken care of."
One of Sony's concerns is security. They don't want to see the same hacking situation that lost millions of PSN IDs happen again. Dunham says that's not an issue.
"We think we've got it all covered…We've worked on all the platforms and had our engineers working on the servers. Xbox has the highest security of any of the platforms. If we can pass that, we can pass any of the other security protocols."
There needn't even be any real changes made to any of the platform ecosystems.
"We run our own servers. We run our own matchmaking. None of the platforms are aware of what's going on in the other's ecosystem. We control all that."
To make things doubly frustrating, Dunham asserts that adding cross-platform play is as simple as flicking a digital switch – and that it's just politics that's keeping it from happening.
"Technically, I could make a phone call to Psyonix right now and it [PS4 cross-play] would be up and running before you left the room. The problem is just the political barrier that prevents it from happening."

So is it going to happen? Will PlayStation 4 gamers be able to play multiplayer with Xbox One and Switch players? It could – you just need to make your voice heard. Dunham says that gamers need to let Sony know that they want to be able to play with others.

"It's up to the community to say, 'This is what we want,' and say it consistently," he said, drawing comparisons to the features implemented in-game in response to community requests.

That's gaming now. Gaming should be community-driven. That's why it's up to them to help push us and Minecraft and all the companies that want to do a similar thing. Help us push it forward."
Last Updated: June 19, 2017