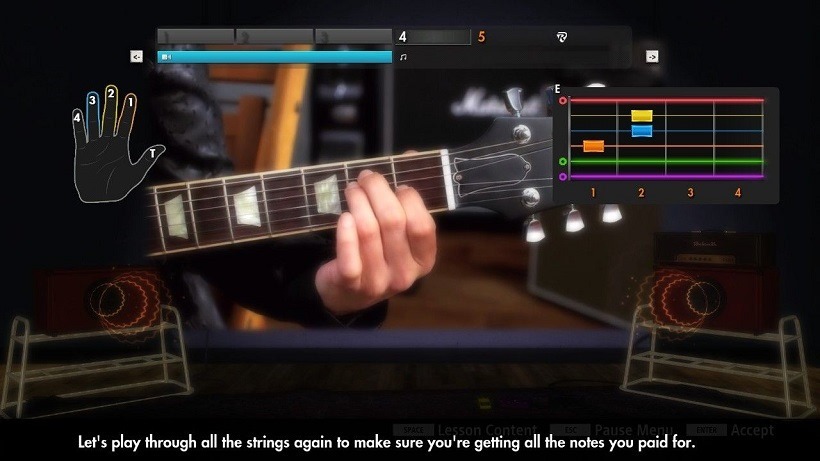 I get it Ubisoft. back in 2014 you thought it would be a great idea to release a game with the year appended to the title. I mean, why wouldn't it be? It's not like there were ever plans to re-release content that people had already bought, stuffed with nearly meaningless extra content and peddled for full price again, right? Well this is 2016, and that's pretty much the standard procedure. How wonderful the future has become.
Rocksmith 2014 Edition is a game that, if you somehow haven't picked up by now, came out two years ago. Ubisoft don't seem to think that enough people played their virtual guitar lesson simulator back then, and so have decided to re-release the entire package now. In 2016. Because we're apparently living in a surreal reenactment of Whose Line is it Anyway, except this time it's the years that don't matter.
If you're somehow interested in picking up Rocksmith again (or just missed out the first time around), you'll be glad to know that the remastered version comes with a handful of new tracks, some redesigned menus and a more dynamic difficulty system. That's pretty much all you could expect to be added to what is essentially a virtual assistant, although Ubisoft promises some other new features that it isn't discussing right now.
"Three Little Birds" by Bob Marley & The Wailers
"Suspicious Minds" by Elvis Presley
"Some Nights" by Fun
"I Want You Back" by The Jackson 5
"Hey Ya!" by Outkast
"Drops of Jupiter" by Train
If you're a returning Rocksmith player and expect this new content to be handed out as a thank you for purchasing the game back when it made sense, then you're in for a surprise. While the new menus and such will come as a free update, the new songs will not. Any additional songs will need to be purchased from the Rocksmith store, which apparently already holds over 800 songs to buy and download.
Rocksmith 2014 Edition Remastered is out later this year. Or at least hopefully it is. As confusing as it is, it would just be exponentially worse if that game from 2014 that was supposed to be out in 2016 was suddenly pushed to 2017. Numbers are hard.
Last Updated: August 26, 2016