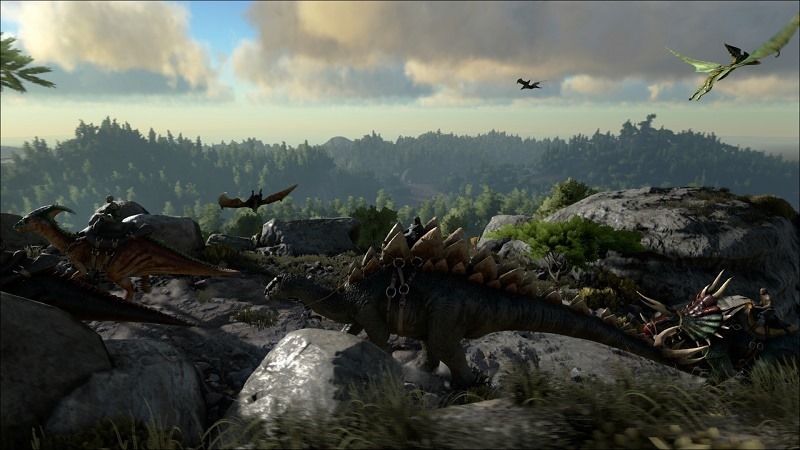 ARK: Survival Evolved has been around on Steam Early Access for quite a while now. It's been out so long in fact, that the game has already celebrated its first birthday, despite not even being officially out.
Throughout this whole Early Access period, Studio Wildcard have released regular streams of additional content. These patches have come packed with the likes of new dinosaurs, extra areas, and more. Let's just say that in terms of raw content, ARK: Survival evolved seems to be ok. When the studio plan on giving their game a proper launch however, is anyone's guess.
But according to a twitter user called bosbevk, they're already working on an expansion. He brought it to our attention with the following tweet:
@LazygamerNet Check this out, they deleted my original post: https://t.co/G1dEb3mkG9

— bosbevk (@bosbevk) August 20, 2016
Following the link leads to a Google cache page of a forum post that has since been deleted. In it, bosbevk shares his findings on what he believes is proof of the expansion that Studio Wildcard are working on for ARK: Survival Evolved, called Scorched Earth.
It's pretty compelling evidence. The Steamdb pages that bosbevk shared don't show anything significant now, but a few weeks ago (thanks again, to the power of Google cache) we can see that they held some interesting intel. The one specifically has Scorched Earth for Windows, Mac, and Linux listed as Depots in the package.
As if that wasn't proof enough, check out this simple Google search bosbevk did last friday.
@survivetheark @arkjeremy @rockpapershot https://t.co/AWJ32cjG3a Something big = ARK: Scorched Earth Expansion pic.twitter.com/1vhqb0T4FA

— bosbevk (@bosbevk) August 19, 2016
512540 is supposedly the new expansion's package number. Doing the same search now does not show the same result. In fact, it brings up bosbevk's original forum post, which as we all know, has since been deleted.
So, are Studio Wildcard working on a new expansion. It certainly seems that way, but there's been no solid confirmation of any kind. Though, interestingly enough, they did tell Rock, Paper, Shotgun in an interview last year that Ark's first expansion would be ready a few months after its June 2016 release.
The game's not out yet, but hey, maybe Wildcard are sticking to their schedule regardless. That, or they're officially launching ARK: Survival Evolved with this new expansion. Or they're launching the game soon, and the expansion shortly after. I don't know, this is all a big rumour for now, so I hope you have a huge bag of salt ready!
Last Updated: August 22, 2016