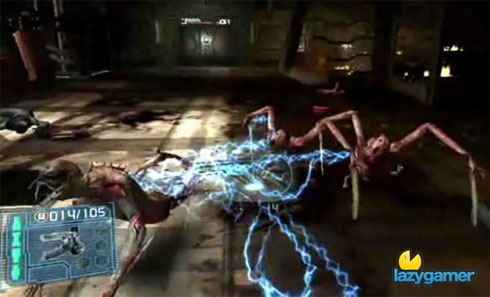 Dead Space Extraction, the Waggly Wii-based on-rails prequel to the original HD survival horror was critically acclaimed – and still stands as one of my favourite Wii games. Unfortunately sales of the title were ridiculously low, with the Wii just not the right home for the game.
It's unfortunate, too – with it being on rails the developers were able to craft a pretty tightly woven experience. Now it seems those of you without Nintendo's white waggle box will be able to get your on-rail scares as well. it's worth playing too, even if just for the South African accent you'll encounter.
An Electronic Arts rendering engineer lists the following game experience, via NeoGAF, currently in the works at EA Montreal.
Dead Space Extraction XBLA/PSN port (Feb 2010 – Now):
– Currently porting the popular Wii title based on EuroCom's EngineX to XBLA and PSN.
This fits in quite nicely with EA's Project $10, and could serve as an incentive to purchase Dead Space 2. With the PS3 and the Xbox 360 also set to have their own motion control soon, it could end up working – but with Sony's Move being a lot more Wii-like, the PS3 may be the best fit. It should also get a substantial HD upgrade, too.
With it being a guided experience, it might be something Nick might actually finish.
Source : NeoGAF
Last Updated: June 4, 2010