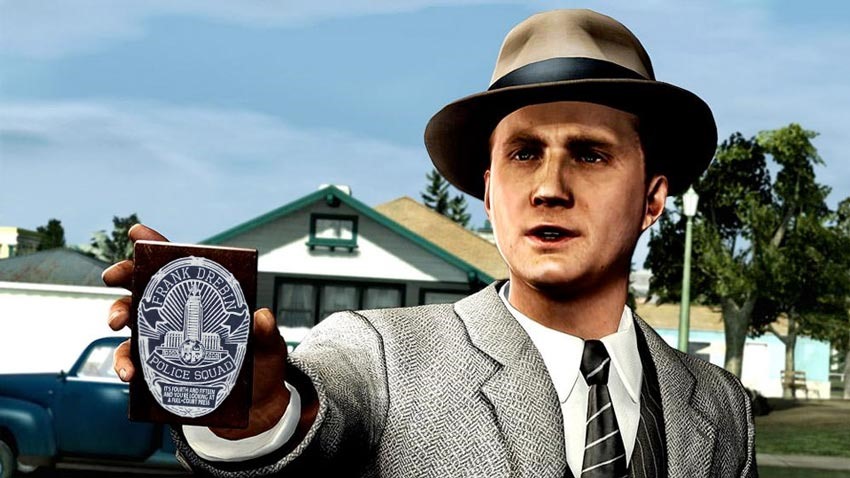 Anyone here remember LA Noire? It was a great game, one where players had to spend half their time solving murders and the other half pressing X so that they could attempt to interrogate the truth out of people by screeching in their faces. Revolutionary stuff it was. LA Noire's key gimmick was in its visuals, as it made use of facial capture technology that produced characters who looked like they hailed from the uncanniest of valleys.
Characters whose expressions hid giveaway ticks and clues as you spoke to them and attempted to get beyond their poker-faces, much like I did back in 2008 when Lady Gaga went viral. LA Noire may not have been the best game to ever come out with a Rocksteady label on it, but it was a solid game nonetheless. If you've been keen to play it again, then here's some good news: You might soon be able to do just that. Once you pay for it again of course.
According to rumours from ComicBook.com's sources, LA Noire will hit Nintendo Switch, PlayStation 4 and Xbox One later this year. Much like Grand Theft Auto V's eventual port to current-gen systems and PC, it'll pack in a first-person mode and probably some updated visuals for good measure. Maybe even VR. "There's no word yet on when the apparent LA Noire remaster is set to launch," Comicbook.com wrote.
Earlier rumours indicated that it may have been planned for later this year, but given the busy release schedule all three of the rumoured systems, Rockstar might well end up pushing it back to 2018.
Throwing some extra salt on the fire were a series of tweets from Rockstar tipsters Yan2295 and Direct Feed Games from back in January, via VG247:
According to what I heard, Rockstar might be releasing a remastered version of L.A. Noire on the Nintendo Switch.

— Yan2295 (@Yan2295) January 15, 2017
Regarding LA Noire Remaster, the title is sounding like it'll come to Switch, PS4, and Xbox One. Release slated for late summer.

— Direct-Feed Games (@DirectFeedGames) January 25, 2017
I'm pretty much happy to have played LA Noire once. I don't think it's the kind of game that has held up well over the years, as its facial technology may have been a massive leap forward several years ago but looks positively nightmarish today. That's just me though, although I'd gladly play a sequel with more modern flourishes. Which is probably never ever going to happen in my lifetime.
Last Updated: June 21, 2017