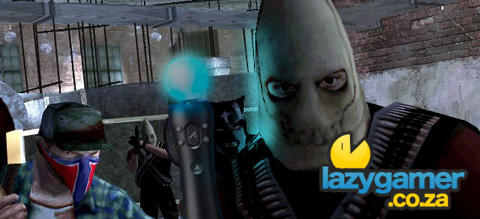 Ever considered swinging an axe across the room to help keep in shape? Based on the looks you'd get even suggesting such a thing and the obvious risks, I'm going to guess that's a no. Well, for all you closet axe-wielding health freaks out there, this may be the perfect opportunity to let out all those pent-up needs. Yanked out of the dark and twisted corners of the gaming world, comes word that the next ManHunt game will be a PS3 exclusive and will be designed to support Sony's PlayStation Move.
Never ceasing to find new ways to delve deeper into the controversial world of violent video games and their crazy amounts of voyeuristic entertainment, it is no shocker that ManHunt 3 may in fact be in full swing and ready to carve a new and gruesome path in hi-def mutilation.
The speculation comes from the fact that both Sony and TakeTwo, Rockstar Games' parent company have made it known that they are both planning something "big" for this year's E3, whether they will be making a joint announcement or not is yet to be revealed.
"There have been murmurs about ManHunt 3 since the highly controversial release of ManHunt 2 for the Wii and PS2.

From what we're being told, the game will be PS3 exclusive and utilize the PlayStation 3's upcoming Move add-on. It definitely makes sense since the PS3 would be a perfect fit for the ManHunt sequel."
Again, this is just a rumour and I am pretty convinced that with the heat being turned up for E3, Sony are going to need more than this to take the show this year. We'll keep you posted as and when more info guts its way into the open.
I wonder if one of the new weapons will be a little blue balled wand, hmm?
Last Updated: March 26, 2010