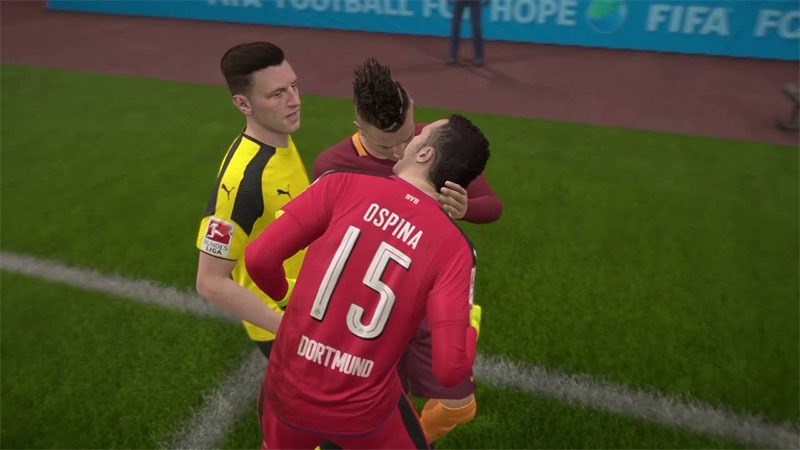 FIFA 17 is a pretty good game about kicking a ball about within a digital realm. It's got a pretty long, robust career mode, the usual multiplayer modes (that may or may not work locally on Xbox One) and a brand new engine in the way of DICE's Frostbite engine, giving it a new layer of graphical sheen.
It's also being used to make people gay.
That's what a number of Russian members of Parliament believe, calling the football simulator "gay propaganda." While you may think it's down to the glitches that often result in men kissing each other, it's actually got more to do with…rainbows.
Show your support, get your FREE Rainbow kit in FUT now! More on the #RainbowLaces campaign: https://t.co/2NohXaloXe pic.twitter.com/xSbY9G8wAp

— EA SPORTS FIFA (@EASPORTSFIFA) November 26, 2016
As part of the Rainbow Laces campaign, which aims to stamp out homophobia, biphobia and transphobia in football, EA (a perpetually LGBTQ-friendly company) added a free Rainbow Kit to allow people to support the cause. And now, Communist MP Valery Rashkin says the game should be investigated by Russia's Federal Service for Supervision in the Sphere of Telecom, Information Technologies and Mass Communications.
They say the game is in breach of a 2013 law against homosexual propaganda, which prohibits "propaganda of non-traditional sexual relationships" They're hoping that Russian authorities force EA to "introduce changes to the programming code or the age classification of this information product, and if it refuses, adopt corresponding restrictive measures."
Keep your kids away from FIFA, folks– before it makes them gay.
Incidentally, EA has been named as a "Best place to work" for LGBTQ folk by the Human Right's Commission for the fifth year in a row.
"We believe each and every one of our employees deserve to come to work with a sense of belonging as their full and complete selves so we can work together as one team and delight our diverse players around the world. We not only want to provide support, but want a culture where the LGBTQ community thrives."
Last Updated: December 6, 2016