In the later stages of the Do Gaming Championship it was brought to my attention that Ventus Gaming were allegedly fielding an illegal player throughout the tournament. At the time I just shrugged it off since they could have gotten by on a technicality or found some loophole within the Digital Gaming Leagues' rulebook. However, yesterday we were informed, via a source who wishes to remain anonymous, that the player in question may have played under his brother's name for the League of Legends team –  making the issue somewhat more serious.
The matter explained
DISCLAIMER: Please note, this is the evidence which was given to us via an anonymous source, this evidence may or may not be sufficient, but we wish to keep you updated on the matter.
According to the email Ventus Gaming had two teams signed up for this year's Do Gaming League – Ventus Breeze and Ventus Monsoon. Ventus Breeze are the team in question, so remember this or it may become hard to follow. Earlier in the season a player by the name of Prestito was dropped from Ventus' Breeze team after a lengthy run as their mid lane player.
Prestito then played under the Ventus Monsoon team for the DGC playoffs essentially being locked to that roster. As the Championships drew closer Ventus Breeze lost their mid laner, and were now in the need of a new one. In comes Roxorman. According to our source Arnoldi now created a new DGL profile in order to join Ventus Breeze once again. This was already violating a rule in DGL about having two accounts. Here is the incomplete profile on the Do Gaming League page.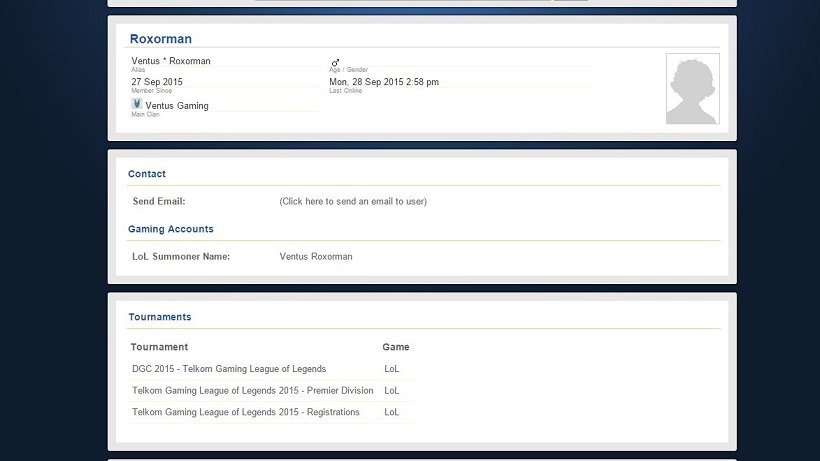 Prestito allegedly then changed his League of Legends account name to "Ventus Roxorman" and played at the Do Gaming League Championships, placing second after their defeat to Energy eSports. Below is the complete profile of Prestito. If you're feeling all Sherlock Holmes, like I was when writing this, you'd note that the profile above was made on the 27th of September. Pay careful attention to the "Last Online" date in the image below.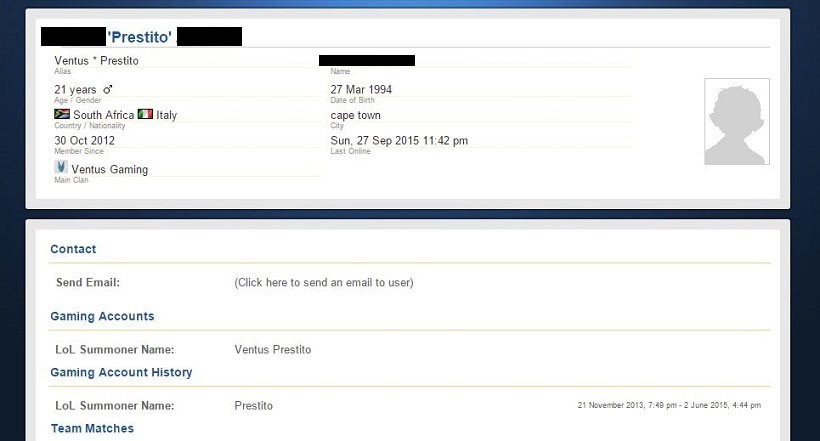 With the profile being incomplete we cannot rightfully assume that he i used his brother's name to take part in the Do Gaming Championships. The piece of evidence submitted to us which implicates the use of his brother's name is via a DGL article on the League of Legends tournament.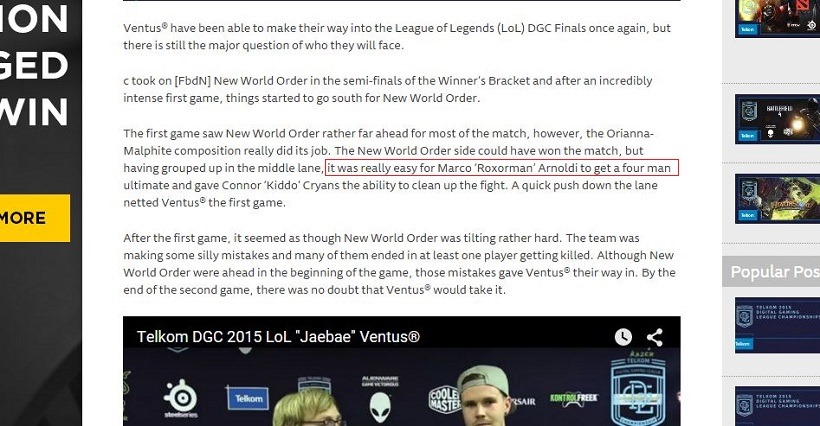 The DGL would not make a mistake like this unless incorrect information was given prior to the tournament. This now puts Prestito in a very unfortunate position. Upon entry to the DGC (The actual venue) players have to produce identification documents in order to enter with their computers and take part. If Luca Arnoldi did impersonate his brother, using his credentials, this is a serious (and illegal) offense. The DGL submitted a statement earlier on the matter:
"The DGL team confirms it received a dispute during the Telkom Gaming Championships that one of the players in one of the Ventus Gaming League of Legends teams was not the player on the Ventus roster for the tournament.

The matter was taken very seriously and was reviewed immediately by the tournament organizers. It was determined that there was insufficient evidence to make a ruling at the tournament and that more time was needed for the investigation.

Ventus Gaming was informed at the tournament that their League of Legends team was under investigation for fielding a player illegally and that a ruling would be made once the tournament was concluded and the matter has been thoroughly investigated.

The matter currently sits with the DGL Tribunal Officer for investigation and a ruling will be issued once the investigation is complete."
We then reached out to Ventus Gaming's owner Pieter "Cyrus" Venter for a statement, he had the following to say:
"This is nothing new. Players who don't perform in tournaments have disputed matches over and over again. There are countless examples of weaker teams disputing outcomes of their match result purely based on sour grapes. I am glad that the DGL is taking the matter so seriously and doing a proper investigation, so that it can clear our name from all the rumors flying around."
Our source also told us that Arnoldi refused to be in any photos taken on the weekend, which we thought was strange, until Ventus Gaming went on stage for their second place finish.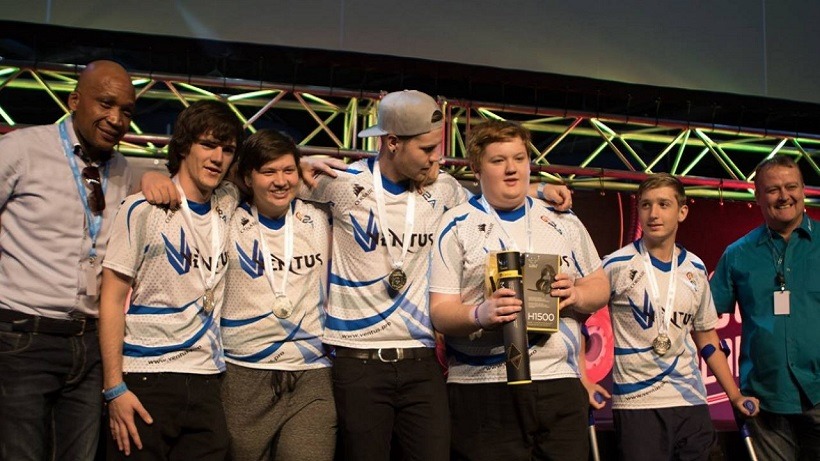 Image Credit: Ventus Gaming
Prestito is not in the image above, which doesn't exactly help their cause. This whole situation was a bit confusing to me as well, so I'll give you a summary of the evidence and accusations.
Prestito leaves Ventus Breeze, joins Ventus Monsoon.
Ventus Monsoon fail to make the Championships after playing in the Playoffs
Rosters are locked.
Breeze loses their mid laner and are now in need of one.
Prestito makes a new account under his brother's name called Roxorman.
Roxorman joins Breeze with an incomplete profile
Prestito plays as Roxorman for the entirety of DGC.
As I mentioned this was the evidence given to us, and I made sure I double checked every single image and source (including those I could not post here due to personal information and images being attached). We are not accusing anyone and will keep you updated on the further investigations conducted by the Digital Gaming League.
The reason behind posting this is to make every aware that offences like this are in fact seen as Identity Theft, which is a white collar crime in South Africa. Even if this is untrue, which I pray it is, let this be a warning to any people who think "oh it's just a gaming league, nobody will care," that in fact they do. And if this case is proven true, a person benefitted financially from identity theft, which carries serious repercussions. Be careful, be smart.
Like esports?
Check out esports central
Last Updated: October 15, 2015