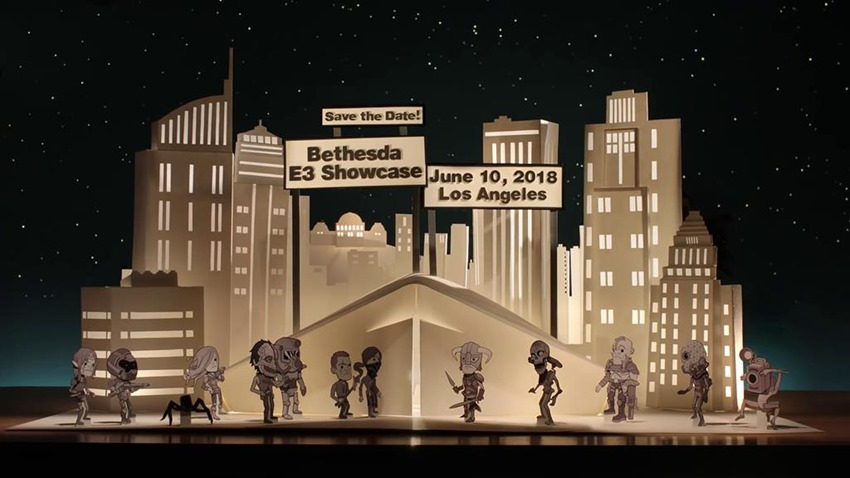 It's official! Bethesda Softworks will once again be popping up at E3 this year, having not only a stage floor presence but also its own showcase that kicks off a few days before the main event. That sound you hear? That's the sound of a thousand gaming press members screaming at the heavens, shaking their fists in righteous fury at the press conference gauntlet that awaits before the true showcase of the immortals kicks off.
Proving that the third time is indeed the charm, Bethesda's event number trey will be held on the Sunday before E3, on June 10. It'll be open to media, industry and public, provided that they get there early enough to collect a random weapon which they'll use to slaughter their way through the competition. With enough bloodshed to fill an Olympic swimming pool, survivors will find themselves rewarded with a front row seat to see the grand unveiling of Rogue Warrior: Motherf***in' Battle Royale.
Maybe, I have no idea. This is all based on what my industry insider source Sticky Joe had to tell me. So what's really on the agenda? Bethesda's teaser video clearly included stop-motion cutout characters from its heavyweight franchises: DOOM, Dishonoured, Elder Scrolls and Fallout to name a few. My money this year is on a proper DOOM sequel, maybe even the highly anticipated sixth chapter in the Elder Scrolls and maybe even a proper remake of Wet.
Yes dammit, I still hold a torch for Rubi Malone. Anyway, save the date and don't feel left out if you can't attend, as Bethesda will livestream the event at 18:30 PT. Which in good ol' South African time, works out to…04:30AM. Hoo boy, if only a dedicated team of local pinheads were on the scene to cover the show. Wait a minute, we're a dedicated team of local pinheads!
Last Updated: March 5, 2018