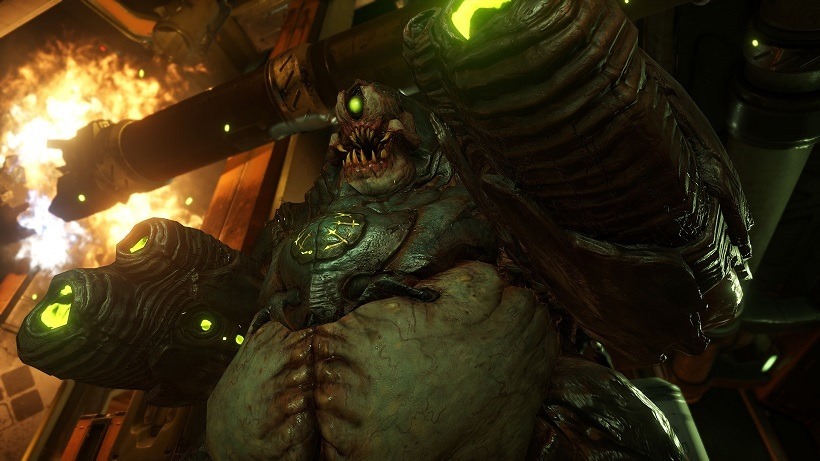 A guilty pleasure of mine is catching up on the  Clueless Gamer segments that talk show host Conan O'Brien puts on from time to time. I know a lot of people don't find them funny but I think his ambivalence towards gaming  coupled with his loud character really nails it most of the time – and on top of the fact that we usually get to see a little more gameplay of the title on show. This week that was DOOM, and it let out a few surprises.
After seeing the new trailer last night which revealed the game's release date, a little more DOOM gameplay certainly is a treat. There's not a lot on show in the segment below, but there is footage of what seems to be an unlimited wave mode (so Horde basically) that hasn't previously been spoken about. It's not a massive feature by any stretch, but it's cool to see that you'll be able to kick some demon ass outside of the game's campaign.
"How did you know that was a hologram?"

"I mean I'd seen 2Pac in Coechella"
Other than that it's still the game gory game that we've been seeing an increasing amount of over the past few weeks, and it feels like the DOOM hype train has finally left the station. Despite how the game slows down during the gruesome executions it really looks like the fast-paced, rock-and-roll natured shooter that you'd expect with the DOOM name, which certainly has people debating far and wide across the internet.
Personally I think id Software are nailing the feel of DOOM so far, and I think fans are really going to be happy with it in their hands come May 13th. It's out on Xbox One, PS4 and PC, along with this awesome Collector's Edition.
Last Updated: February 5, 2016