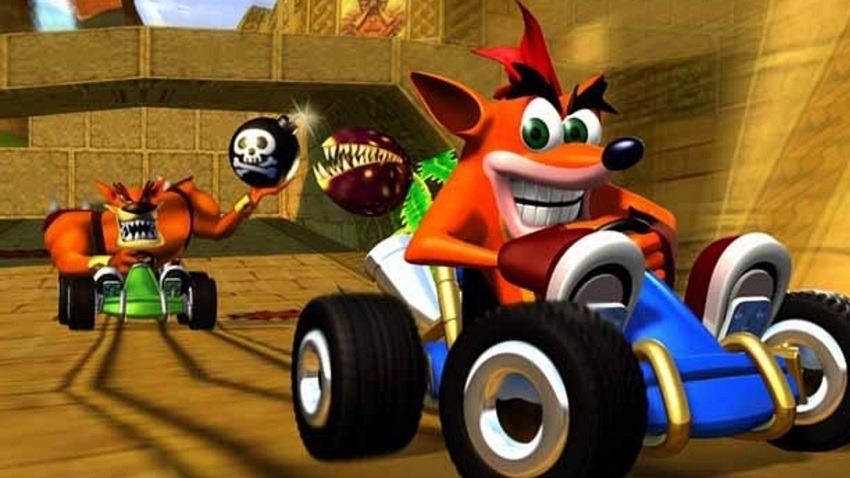 Following in the footsteps on the Crash Bandicoot and Spyro Trilogy remakes, it seems Activision will once again plunge deep into the wells of nostalgia and bring back perhaps the most exciting franchise of them all: Crash Team Racing. With rumours abounding of its development now culminating in very obvious teases to its announcement, it seems the publisher will use the stage at this week's Game Awards to finally make the project official. And that's great, because we need to remember just how incredibly well Naughty Dog nailed this kart racer on the PlayStation 1.
The teases started earlier this week via the Crash Bandicoot PS4 Facebook page, which initially asked followers what they might expect to see at the show later this week. This was later updated with the iconic Chequered Flag from Crash Team Racing, which is a very obvious point to an imminent reveal. Holly Bennett of PlayStation Access just added fuel to the fire today, tweeting out a pair of orange fuzzy dice with a note that mentions "sliding" into The Game Awards. Given that Crash Bandicoot is, well, orange, and does a lot of sliding about in Crash Team Racing's drift-crazy tracks, this seems pretty clear.
Eurogamer went ahead and confirmed that the teases were the real deal, and that they believe the project will be revealed this week. Given their track record with reporting on leaks and breaking stories of their own, this seems like another checkmark next to a Crash Team Racing remake legitimacy. Vicarious Visions handled the initial Crash Bandicoot remake, after which Toys for Bob did the recently released Spyro Trilogy. Given that trend, it's safe to assume that this will be a full remake too, and hopefully with some original content given that the PlayStation 1 classic only ever had one entry (the less said about Crash Nitro Kart, the better).
I would personally love to see Crash Team Racing back in the spotlight, given its special place in my heart as the first PlayStation 1 title I ever played. It's a racer that has held up too, which I discovered after playing it two years ago on the Vita. The Game Awards is taking place this Thursday morning at 3:00.
Last Updated: December 5, 2018