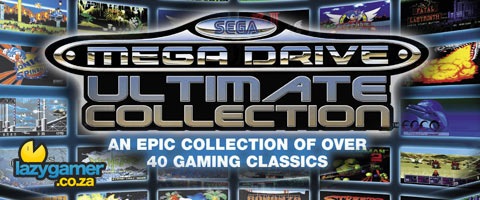 Do you miss your Sega Megadrive? I know I do, mostly because all this talk of Street Fighter IV in the last week has made me think back to the day that I got my Megadrive, along with Street Fighter 2 Championship edition, as well as Sonic the Hedgehog 2 and Echo the Dolphin.
Those were the good old days of gaming for me, everything was simple and straightforward and there was no concept of DLC and patches. Great then to know that Sega MegaDrive Ultimate collection is out this week for both the Xbox 360 and Sony Playstation 3 and features a massive collection of 40 of some of the greatest titles on the system.
Check the full list after the jump.
[Thanks Devy for the tip]
Here's the full list:
Alex Kidd in the Enchanted Castle
Alien Storm
Altered Beast
Beyond Oasis
Bonanza Bros.
Columns
Comix Zone
Decap Attack starring Chuck D. Head
Dr. Robotnik's MBM
Dynamite Headdy
Ecco the Dolphin
Ecco II: The Tides of Time
E-SWAT
Fatal Labyrinth
Flicky
Gain Ground
Golden Axe I
Golden Axe II
Golden Axe III
Kid Chameleon
Phantasy Star II
Phantasy Star III: Generations of Doom
Phantasy Star IV: The End of the Millennium
Ristar
Shining in the Darkness
Shining Force
Shining Force 2
Shinobi III: Return of the Ninja Master
Sonic 3D Blast
Sonic and Knuckles
Sonic Spinball
Sonic The Hedgehog
Sonic The Hedgehog 2
Sonic The Hedgehog 3
Streets of Rage
Streets of Rage 2
Streets of Rage 3
Super Thunder Blade
Vectorman
Vectorman 2
Last Updated: February 27, 2009